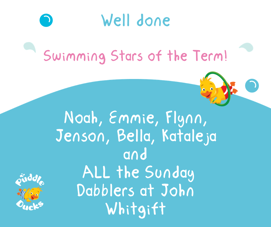 Congratulations to our Swimming Stars of the Term for Autumn 2019! 
Our teachers have all nominated one of their little swimmers to receive a Swimming Star of the term certificate in class! 
Here's who they nominated...well done! 
Noah, nominated by teacher Amy
"He has come on in leaps and bounds this month, what great progression!"
Emmie, nominated by teacher RachAel
"Emmie's confidence has grown enormously since starting only a few weeks ago. She is doing the most amazing underwater swims and has shown massive progression in such a short space of time. Well done, Emmie! X"
Flynn, nominated by teacher Clair
"Flynn your confidence has grown so much over the last month. You are attempting every activity, have swum on a woggle all by yourself, been an under water star and your jumping has been amazing! I am so proud of you. Keep it up little man and keep smiling. x"
Jenson, nominated by teacher Sarah 
"Jenson has always been a nervous swimmer clinging to mum and dad sometimes not even making it out of the changing room. However this term we have really turned a corner. However this term we have really turned a corner. Jensen has become a lovely confident happy little swimmer. Happy and independent on his woggles, lovely kicking legs and reaching arms, even putting his face in the water blowing bubbles. Most important of course, he is smiling, laughing and having fun in his lesson. Jensen I am so proud of you. Well done x" 
Bella, nominated by teacher Rebecca 
"Bella is in Dippers now but when she first moved up she seemed to lose her confidence a little, which can happen in a little one's swimming journey. I am just so happy to say we have now got a confident little swimmer back. She has been doing some great underwater swims, including swimming through the hoop. Jumping in has always been her strong point and she has almost mastered swimming on her back all by herself. Well done Bella, keep it up!!"
Kataleja, nominated by teacher Madi
"Kataleja has grown in confidence and ability each week for the last year. Her progress to a young able swimmer has been amazing to watch. She is now so grown up, listens well and participates in all activities. Her love for the water is very special and I hope her swimming journey continues forever! So proud of you Kataleja well done!!"
The WHOLE Dabblers class at John Whitgift Pool on a Sunday, nominated by teacher Gill
"The whole class have been amazing this term. They cheer each other on when trying to achieve distances, which makes the desire to give it ago infectious. They take onboard all we do and practice their stroke arms at home showing me out of the pool what they can do. A brilliant bunch and pleasure to teach."
Well done to all our swimmers of the term!