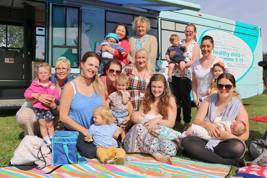 We are delighted to be supporting Doncaster Big Latch On later this week, which is running as part of the Global Big Latch on.
Global Big Latch On events take place at registered locations around the world on 4th August, with mums gathering together to breastfeed and offer peer support to each other. Friends, family and the community join the celebration to promote and support breastfeeding and we are looking forward to the event in Doncaster, hosted by Mumworthy. 
Natalie from Mumworthy says 'We're here to celebrate and support breastfeeding mums. Last year we saw 165 attendees and 60 mums breastfeeding at once. We'll be joining in the Global Big Latch On at 10.30am...I personally will be celebrating breastfeeding for 18 months, so no matter if you have breastfed for an hour, a week, or a little longer like me, join us for this special celebration to normalise breastfeeding and the challenging but amazing journey breastfeeding mums and families experience'
Doncaster Health Visitors and Doncaster Children's Centre staff will be at the event to provide mums and dads with breastfeeding support and offer general parenting advice. There will also be some special visitors, goody bags and raffle prizes! 
So join us at the Big Latch On! 
Friday 4th August 10am -12pm 
Sandall Park, Doncaster, DN2 5DW