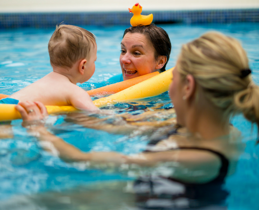 There are many benefits to taking your child swimming.
Skills for Life 
Making swimming independently and water safety as natural as breathing
The swimming and life-saving skills your little one is taught on the Puddle Ducks programme will stay with them...for life! 
Skills for Life means just that at Puddle Ducks, every child is taught to swim using tailored activities that are unique to them, and their levels of ability and confidence, within our structured framework - we keep it fun and we know that works! 
The children in our swimming classes learn how to swim without realising it, so that swimming and water safety become as natural as breathing, and it develops into a skill set that never leaves them. 
The little ones we teach can often swim over 10m before starting school. 
Healthy Life
Making exercise fun and learning through active play 
Puddle Ducks helps parents and youngsters live a healthy life from as early as possible, by showing them how much fun it is to keep active, both within and outside of our classes. 
We never preach, just naturally encourage a healthy lifestyle through regular, fun, exercise and active play. 
The skills and activities taught in class can be taken away and enjoyed in other pools, on holidays and with friends and other members of the family, for life. 
Social Life 
Developing valuable social skills; children and parents making friends for life 
Puddle Ducks has a fantastic social element that our customers just love. The little ones in our swimming classes adore playing together both in and outside of lessons - and parents often become friends for life, too. 
Puddle Ducks has an important social side to its classes. We teach children of the same age, rather than of the same ability, so that little one's are learning at their own pace amongst their peers. This helps them develop a valuable set of social skills that will stay with them as they grow. 
The changing rooms can also be quite a sociable environment for parents too, with many becoming firm friends for life and meeting up during the week even when it's not 'Puddle Ducks day'. 
Our Facebook page (www.facebook.com/PuddleDucksDoncaster) creates a sociable community online where all our customers can share stories, hear our news and interact with each other. 
Family Life 
Helping to create memories, from bath time to holidays and more
Puddle Ducks touches our customers' family life beyond the swimming pool, whether that's by singing our songs at bath time or playing with the Puddle Ducks puppet! 
Puddle Ducks can enhance our customers' family life outside of the swimming pool. Little one's and parents alike love singing our songs at home, or taking the Puddle Ducks finger puppet out on day trips (or just to the supermarket!)
Bath time can become a real treat as your child's water confidence grows, and they evolve from a child who screams when having their hair washed to one who squeals with delight and blow bubbles in the bath tub! 
Even holidays are made more enjoyable, bringing happy memories being in swimming pools together, and giving the little ones chance to show off their new skills to other family members.