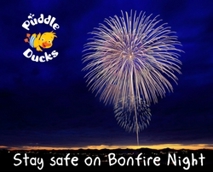 As Guy Fawkes Night approaches, many of us will be celebrating the 5th of November with fireworks at home or at a public display. However, as hundreds of young people are reported to be injured by fireworks every year, it's important to ensure you're aware of how to keep your little ones safe.
Here are ten essential safety tips for Bonfire Night, courtesy of www.familiesonline.co.uk
1. Don't build a bonfire too high

Always ensure your fire is built in an open space and not too close to houses, hedges, fences or sheds. Where possible, try to attend an organised display and keep a safe distance to ensure your safety.
2. Never light a bonfire with petrol

Or any flammable liquid, instead use domestic fire lighters and never throw aerosol cans or tyres onto a fire.
3. Keep a bucket of water nearby

Ensure you have a hosepipe or bucket of water on hand in case of an emergency. Used fireworks and sparklers should always be placed into the bucket after use for safety.
4. Only buy fireworks marked with the BS7114 kitemark

You should also never place fireworks in your pocket. Be sure to store them in a cool, dry box.
5. Always follow the instructions

And remember to use a torch and not the light of a flame to read the instructions on each firework. Be sure to use a taper to light the firework at arm's length and stand well back from them. Always supervise young children around fireworks.
6. Never go near a firework that has been lit

Even if the firework hasn't gone off, it can still explode. Also, never throw discarded fireworks onto bonfires as they may still have gunpowder left in them.
7. Never give sparklers to a child under five

Only light one sparkler at a time and teach young children to hold them at arm's length.
8. When a sparkler goes out, do not touch it

It could still burn you, so be sure to put the hot end down into a bucket of water.
9. Ensure children are not wearing loose clothing

As they may catch fire and always ensure children wear gloves.
10. Keep pets indoors

The loud noises of fireworks will scare many pets. Always check before lighting a bonfire that your pets are inside and safe.
Download a Safety Tip guide from familiesonline.co.uk here