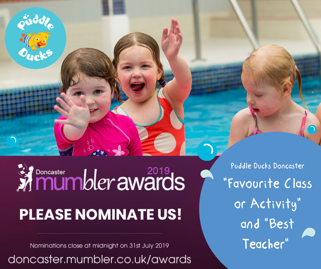 The first Doncaster Mumbler Awards takes place in November 2019 and we would love to be part of it! 
Doncaster Mumbler are asking Doncaster families to help celebrate all of the fantastic family friendly businesses in Doncaster and we could be nominated in two categories: 
- Best Teacher/Child Practitioner 
- Favourite Class/Activity 
If you love your classes and can recommend them to other parents, we'd be really grateful if you could take a few moments to nominate Puddle Ducks Doncaster. We'd love our fabulous teachers to be recognised for their work too as we think they're pretty special! 
Thank you!