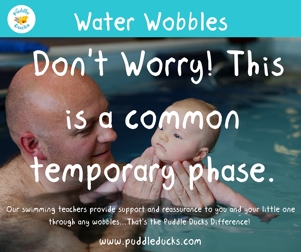 Babies & children of all ages usually have lots and lots of fun in the water, but sometimes dips in water confidence, or "water wobbles" as they are known amongst most baby swimming teachers, can happen meaning that your little one doesn't enjoy their classes. 
The main thing to realise is that the 'Water Wobbles' are a common and temporary phase and our teachers recognise these ups and downs - they know how to deal with it appropriately and will provide help and reassurance to you and your child.
Click here to read more about the signs and causes and what you can do about it.