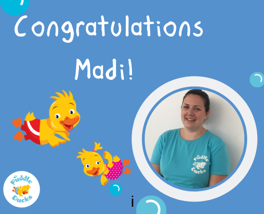 We are thrilled to announce the promotion of Madi to the role of Senior Teacher! 
Madi will be working alongside Nikki within our team to ensure that our high standards of teaching are kept consistent across our area and make sure that our teachers are kept up to date with their technical updates. 
This helps keep our classes fun and above all safe for our swimmers. 
Congratulations Madi, you are an asset to our team and we and your customers are lucky to have you! 
We wish you every success in your new role.