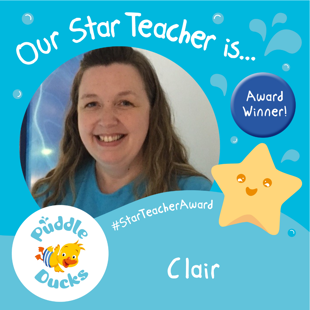 Congratulations to Clair, who has been picked as our Star Teacher of the Term for Summer 2019! 
Thank you to everyone who too the time to nominate we really appreciate it. 
We asked Lisa from Baby Dinosaurs pre-loved kids markets to help us anonymously select a winner and here is the winning nomination. 
"A lesson with our teacher is always fun for grown ups and children, she is really informative and is really lovely, genuinely caring and compassionate in her role. She has helped me build my confidence of handling my son in water, despite my fear of water. Clair has been really supportive and so approachable. You can tell she loves her job and develops great relationships with both babies and parents which makes classes enjoyable. She has such a gentle and warm approach when working with babies and ensures we are all safe. I love how she praises all the babies for doing well and will provide 1:1 support to make sure I can do manouvres correctly and safely. I am now looking forward to taking my son swimming on holiday and being able to enjoy it and feel confident playing with him in the pool. Thanks so much."  Rachael, mum to Harry, who swims with Puddle Ducks at Owston Hall. 
Lisa selected this nomination as she felt that not only does Clair make a huge impact on both parent and child during the lessons, but she also makes an impact on their home life, giving mum more confidence to be able to take her child swimming on holiday and feel safe whilst doing so. 
A huge congratulations to Clair from the rest of the team at Puddle Ducks Doncaster, we think this is very well deserved. 
Clair will now be entered in to a national Star Teacher competition, so we'll keep our fingers crossed!