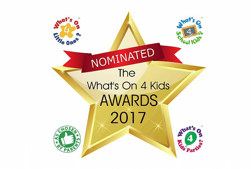 Puddle Ducks Doncaster & South Humberside are absolutely thrilled to have been nominated in two categories for the upcoming What's on 4 Kids Awards!
The 11th National What's On 4 Kids Awards 2017 will be held on October 4th and hosted by NatWest in the heart of the City of London...exciting!  
The nominations, in association with the STA (Swimming Teachers Association), closed last week and we are in the running for the 'Most Outstanding Activity Leader for the Under 5s' & 'Best Pre/Post Natal Activity'!
We will be going through to a public vote which opens on the 28th April so watch this space!
It's amazing to have been nominated and we would love your support and your vote.