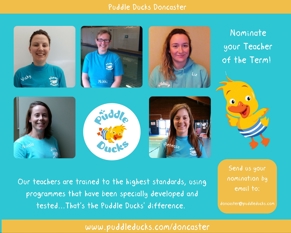 We think our teachers are pretty special. 
Our teachers are not only STA qualified, but they are also trained to the highest standards using programmes that have been specially developed here at Puddle Ducks.
Did you know...
The number of hours training to become a Puddle Ducks Baby & Preschool teacher is 300 hours! 
Our teachers have 16 hours of CPD to be completed annually 
Our teachers repeat CPR training 3 times a year 
As an STA World Partner, Puddle Ducks is recognised as a shining example of teaching standards by the world's largest independent swimming teaching and lifesaving organisation. 
We are one of the only swim schools to provide such a comprehensive teacher training package...so you can be sure that we are using the most up-to-date techniques and can tailor lessons to suit your child's needs. 
If you agree that our teachers are pretty good at what they do, please take a few moments to nominate them as your teacher of the term. We will select our local teacher of the term for Doncaster, who then has the opportunity to win national teacher of the term!  
To make your nomination, simply send us an email with your teacher's name and describe in a few words why you think they should win. Please send your email to doncaster@puddleducks.com 
Thank you! x