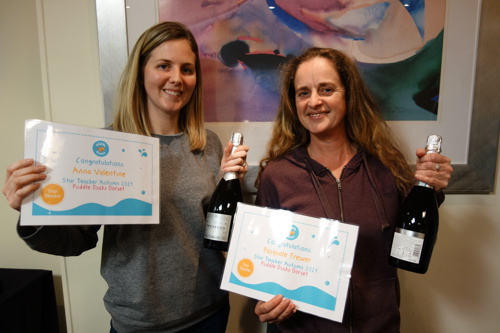 We asked our independent judge Kerry from Daisy First Aid to choose her favourite of all the nominations that came in for our teachers this term... here's what she had to say!
"I was really excited to be asked to choose the winner of "Star Teacher" but my goodness it was such a tough decision, so many lovely and heartfelt nominations. What an incredible bunch of teachers you have! I have been taking my little boy swimming since he was 5 weeks old and really enjoyed our lessons together. That is the reason I chose this nomination; the classes are enjoyed by the whole family!"
Both Anna and Pasquale have been amazing teachers to Harry. They have both been so welcoming to my husband and me, especially as we both enjoy taking him to his lessons. They both provide wonderful lessons, which have ensured Harry feels comfortable in the water and I feel this has aided his overall development. We absolutely love our lessons and they are a highlight of our week! Thank you both. Amy, Harry's Mum
"Not only has Harry grown in confidence and gained this valuable skill but everyone has had fun joining in with him. Swimming is such an important life skill for our children to have but it should also be fun and shouldn't feel a chore to attend lessons, it should be an enjoyable experience and I can tell Harry's lessons are just that!" 
A B O U T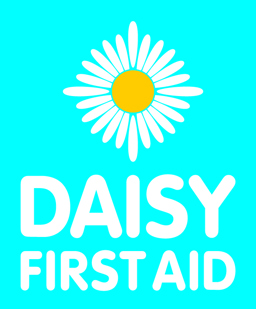 Daisy First Aid multi-award classes have been specifically designed with parents and parents-to-be in mind.
We teach first aid classes covering all the things that could (but hopefully won't) happen – so every parent can feel confident they'd know what to do should their little one need them.
We run classes in selected venues across East Dorset and provide private classes in the comfort of your own home. Babies under 12 months are welcome in all classes. 
Daisy First Aid also provides level 3 Paediatric First Aid courses for child care professionals. 
Kerry also offers Puddle Ducks customers 20% off places on venue classes & 10% off private classes! Find out more at puddleducks.com/rainbow
Thank you for all of your wonderful nominations for our Teachers...
Maximilian has been going to Puddle Ducks for some time now and making great progress. His confidence has grown and he is really thriving in the water. A couple of months ago Maximilian had a bit of a wobble. He refused to get in the water, would cry the whole time we were in the water and wouldn't let me go. This was in contrast to how he was a month before. Lydia was very calm, made me feel comfortable with the other parents even though by son cried all the time we were in the water. On a couple of occasions, we got out of the swimming lesson early but Lydia kept us both going. Maximilian has now turned a corner again, is happy to swim around by himself with two long floats and even jumped in all by himself a couple of weeks ago. Lydia kept both of us (me and Maximilian) feeling confident in a difficult time and we are now out the other side.

Lydia is also brilliant with my older child who has just moved into swim academy from Puddle Ducks. The transition has been super smooth.

Lorna, Maximilian's Mum

Sophia looks forward to her swimming class every week. Laura is always so happy and welcoming. She encourages Sophia to always do her best in every lesson, which is a real pleasure to watch. Laura has a lovely relationship with every child she comes in contact with and just has a happy disposition! She keeps me up-to-date with progress and always congratulates Sophia when she has done well. Laura has our vote! :)

Kelly, Sophia's Mum

The best teacher! My older son learnt to swim with Lisa too and they are both so confident in the water. Lisa is brilliant, kind and consistent. We always look forward to her lessons, the highlight of our day.

Amy, Henry's Mum

Jo is amazing! We love her! Jake beams the entire lesson; it is absolutely the favourite part of his week and Jo is a huge part of that! He wants to work hard for her and make her proud of him. She makes the lessons fun, engaging and challenging and she pushes him to achieve. We are so chuffed to have her teach Jake. She has taken his love of swimming even further!

Natalie, Jake's Mum

"Because she's really really good." From Joshua!
I think Joshua says it all, his swimming has come along leaps and bounds and his confidence grown through Michaela's encouragement and unfailing bright and sunny disposition.

Michelle, Joshua's Mum

Pasquale is so patient, kind, fun and is genuinely pleased when she sees Albie reaching one of his goals. She has been amazing since we started our puddle ducks journey and goes out of her way to help us through the difficult tasks that Albie doesn't quite understand. We couldn't ask for a better teacher... thank you so much Pasquale :)

Laura, Albie's Mum

We started our Puddle Ducks journey with Anna back in 2011, Lilly was eight months old, thanks to Anna's care, support and fun-loving way Lilly thrived in the water. Sadly, when she reached swim academy there were no classes nearby so we had to join other swim classes, we then moved to Suffolk and Lilly had many more swim teachers. Eight weeks ago, we moved back to Dorset and back, luckily for us, to Anna. She is by far and away simply the best swim teacher we have ever had. Her expertise, passion and commitment are second to none, we may have to move again but I'd happily drive hours to ensure Lilly had Anna as her swim teacher.

Sarah, Lilly's Mum

We love Lydia because she is so warm, always has the biggest smile and is so enthusiastic. She also taught our daughter and gave her so much confidence in the water. We recently changed classes and would only switch to another class with Lydia. We don't even say we're going to swim class; we say we're going to see Lydia!

Megan, Harrison's Mum

Laura is the best! We moved here from Australia and Jess has taken to her new swimming class so well. Laura is fantastic with the children and always smiling. A fabulous teacher who thoroughly deserves the Star Teacher Award x

Caroline, Jessica's Mum

Lisa is such an amazing teacher who has a caring, friendly and thoughtful manner. We look forward to our swimming lesson each week. She always encourages George and makes him feel comfortable when swimming with her. She makes our swimming experience memorable; it wouldn't be the same without Lisa. We even go the extra mile to arrange our catch-ups at Portfield school to have consistency with Lisa. She's a credit to Puddle Ducks!

Sarah, George's Mum

Jo is a vibrant teacher, she is welcoming and encouraging to all the children. Alfie enjoys the lessons and loves being a demonstration helper for Jo! Alfie has made excellent progress with Jo, Jo is awesome! 😁

Katie, Alfie's Mum

Michaela gets never tired of praising kids even if they do not always succeed. It's just loveliest way to keep them motivated and makes them love what they do.

Kaiti, Matilda's Mum

Pasquale is just amazing. She has given me and Daisy lots of confidence in the water and helped us to bond with her fun activities. She is a happy smiley teacher who is very approachable. She seems to enjoy her job and is very welcoming each week.

Joanna, Daisy's Mum