Our amazing teacher Jo has been teaching with us for 3 years, teaching our Baby & Preschool Classes. Her infection smile and fun presence make her a firm favourite for our Puddle Ducks and the team alike!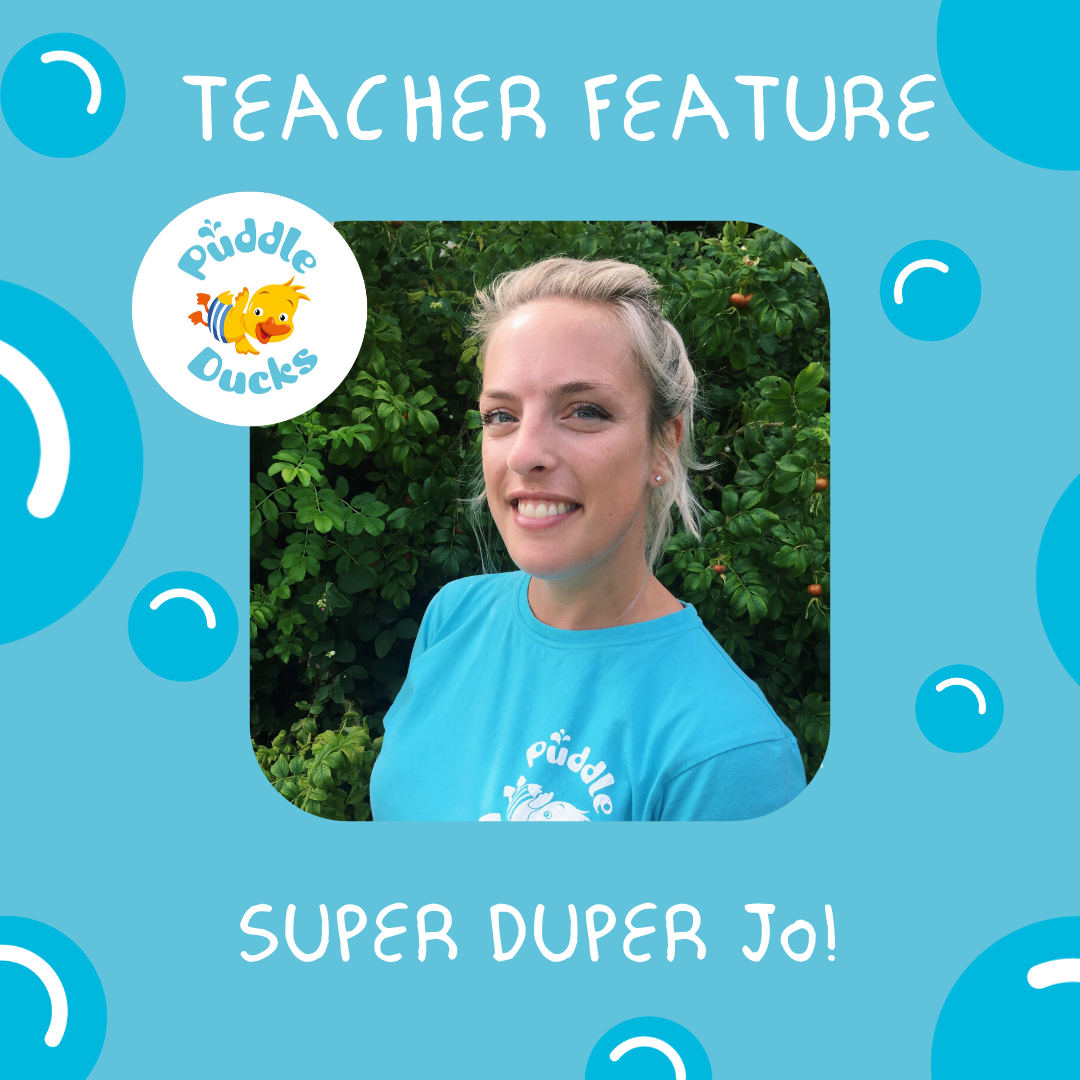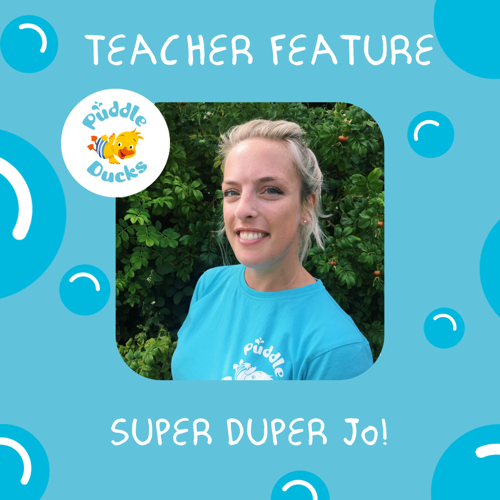 Tell us a bit about you?
Hey guys, my name's Jo and I am one of the baby and preschool swimming teachers for Puddle Ducks Dorset. I am married with 2 gorgeous cheeky boys of my own aged 4 and 6, we have a dog called Candy who is now 11 and a lizard called Spyro! We are a very active family, we love the outdoors, dog walks, bike rides, swimming, cricket and just generally anything where we get to have some family time and fun together.
When and where did you first learn to swim?
Ok so I had to ask my mum about this as my memory failed me here 😂 my mum first started taking me swimming when I was 12 weeks old to a small little pool in Wokingham where I was born and then we moved to hook in Hampshire and I continued with my swimming lessons but at the RAF pool in Odiham near where my school was. I had lessons till about 6 but continued to go swimming loads with my mum and brother, I have many memories of swimming, I used to and still do absolutely love swimming underwater, the feeling of freedom and chill, I just love it. Whenever we went on holiday my brother and I would spend the whole time in the pool, either racing under or above water or having competitions as to who could tread water the longest! I definitely the lessons we had played a big part in our confidence and my mums too when we were in the water she knew we were safe and able.
What did you do before teaching swimming?
Before teaching I was a Nanny for 12 years, after leaving school I went to college and did the BTEC diploma in childcare and early years and went straight into nannying from there. Childcare has always been my passion! I relocated to Bournemouth to start my nannying career and was lucky to work with some amazing families and experience some incredible things; holidays, adventures and memories with the families I worked for. I am still very close to one of the families I worked for, all 3 boys were page boys at my wedding nearly ten years ago, and when I saw them recently 2 of them are now towering over me and one is driving (I feel so old!) I continued to nanny after I had Mason, I looked after older children and took him with me but after Oakley, it was just not possible.
How does it feel to be nominated as star teacher by your customers so many times?
Oh my goodness, it gets me every time!! When the email comes through with what my lovely customers have written about me, it's an overwhelming feeling of happiness and I always cry, I am an emotional person... in a good way!  I absolutely love my job, being in the water seeing so many happy little faces, watching their confidence grow is the best feeling ever, but hearing feedback from the parents at how happy they are and the changes they've noticed in their children is just amazing. I am so so grateful to all the lovely Mummies and Daddies that take their time to write, and it makes it's even more special, so THANK YOU💕💕
Which is your favourite pool to teach at?
I honestly don't know whether I can answer this as each have their own perks! I love the warmth of Portfield School, the size and the fact we have it to ourselves. Hoburne Park I love because my swimmers can play in the other section after their lessons, then use the facilities like the soft play and outdoor park. I love it when I leave and see all the Mums, Dads and children hanging out and having lunch together afterwards, there is such a sociable feel hear and they've all become such good friends.
What would you say to someone thinking of joining Puddle Ducks with their child?
DO IT!!! Honestly, it is the loveliest activity to do with your little one. I started both my boys with Puddle Ducks at 10-12 weeks old, and I loved every moment, I made life long friends with other parents and we still all meet up with the kids now. It's a really lovely activity to do and bond with your little one, giving them confidence and life saving skills from such an early age. Most importantly, they are fun and happy classes and for the parents it is so lovely to have other parents to chat to, relate to and be there for one another and build new friendships. It's the best thing I did with my boys, hence why I decided to become a teacher! I wanted the fun to continue and see those little happy faces smiling back at me x
Jo Teaches at Hoburne Park in Highcliffe on Monday Mornings and Portfield School on Saturday afternoons - Get in touch to book your free taster session with her!