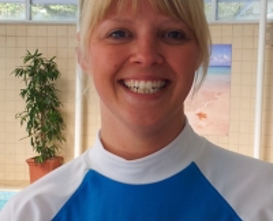 The winner of the Dorset Teacher of the Term (Spring 2016) is... Kirsty Horlock!
Kirsty was chosen by our Independent judge, Nikki Penfold, the Chair for South Dorset NCT. The National Childbirth Trust is the leading charity offering information and support in pregnancy, childbirth and early parenthood. To get in touch with you local South Dorset branch contact us at SouthDorset@nct.org.uk

Nikki chose Kirsty because: "My reasoning is the fact that Kirsty was not only able to put the parents at ease with their child starting to swim but also with patience, understanding and teaching practices has helped build the child's confidence in such a short time. Well done to Kirsty that's an awesome achievement to be recognised for these amazing attributes."

Kirsty's winning nomination was written by Emma Collins, who attends Little Dippers with her son Oliver at DW Fitness:

"I would like to nominate Kirsty Horlock, she has been a fantastic teacher. We were very nervous about starting swimming lessons as my 2yr old son had never swam before. But she made us feel very welcome in a class where all the children had a lot more experience and helped my son grow in confidence in the pool. The change in him is amazing and all in one term. We are very grateful for her patience and wonderful teaching techniques. We look forward to the next term."
 
Kirsty will now be entered into the National Puddle Ducks Teacher of the Term competition - we hope she wins!

Kirsty also had one more nomination:
"I would like to nominate Kirsty who we have our lesson with at DW Fitness. We started the lessons this term when my daughter was only 7wks old and we both thoroughly enjoy the swimming lessons and Kirsty makes every session fun with lots of singing and different activities each time." Emmy & Helen Procter
Anna Valentine received the following nomination:
"Again we would like to nominate Anna for her continued support with our son Oliver.  With Anna's help Oliver has gone from being afraid to get into the water to joining in with every challenge he has been set.  It cant be easy trying to help individuals in a group of up to 8 but somehow she is there to lend a hand exactly at the right time.  Oliver now enjoys every lesson and looks forward to the next time he can go swimming again, this would not have been possible without the encouragement and support from Anna. We hope Anna gets the praise she deserves." Oliver & Nick Strong
Lisa Flood received the following nomination:
"I just wanted to nominate our teacher Lisa Flood. Lisa has just the right mix of confidence so as to make us feel confidence and kindness to explain things to us when we are unsure. She never laughs at me despite me constantly needing reminding of the instructions ! And she is supportive of my struggling to get in and out of the pool due to some back and muscular problems i'm having. I find her classes really good and so does my son, he loves them!" Isaac Burt & Cassie Buchanan-Burt
 
A big thank you to everyone who took the time to nominate your teacher!