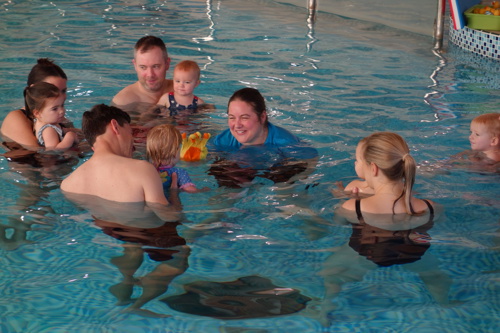 Puddle Ducks is one of the UK's leading national swim schools, teaching children how to swim in a fun, engaging and unique way. Puddle Ducks swimming teachers are at the heart of what we do - delivering individually tailored lessons to small groups and able to get the best out of every child.
Our success is totally dependent on having the best teachers, where commitment, passion, loyalty and the ability to create a great rapport with parents, carers, babies and children are all essential.
This is an excellent opportunity to be a part of our flourishing Puddle Ducks team, still have time with your family AND get paid while you train!
Hours available: Saturday afternoons and weekday cover within 10 miles of West Parley (see other vacancy for Swim Academy Teacher - 5 hours per week can train for this role at the same time for additional hours) Fantastic internal support network and in house training programme.
Key Skills/Attributes:
Excellent interpersonal and communication skills
A passion for children and for teaching.
No previous Swimming Teaching experience is necessary as full training will be given.
Clean Disclosure & Barring Service (DBS) check (paid for and conducted by Puddle Ducks)
Computer literate
You need to be a reasonably competent swimmer (able to swim 25m and dive to the bottom of a 2m pool).
Valid Driving Licence and use of own car is essential.
Main Responsibilities:
Teaching swimming classes for babies and children from birth to four years.
Hours will be discussed on application but will most likely be some combination of Saturday and Sunday initially.
Maintaining a safe and enjoyable experience for your customers
Sharing a passion for everything to do with baby swimming
Loving every second of what you do!
Basic Training
Basic qualifications will need to be achieved locally (with our help and support) including STA Baby & Preschool and STA Safety Award (STA SAT).
Puddle Ducks in house training to take place as follows:
September OR October training in the South West
Attendance at this course will be essential to be considered for this role.
Further in pool training will take place locally with our experienced teaching team prior to full qualification.
Additional weekend sessions will be made available with experience if wanted. Weekday sessions may also become available in due course through expansion.
More details on application.
Hourly teaching rate from £15.50 p/h on qualification, rising with experience. £9.50 p/h training rate.
CV's with a full covering email is stage one of our recruitment process.
Maybe our next expert teacher will be YOU...
Job Types: Part-time, Permanent
Part-time hours: 2.5 per week
Salary: £9.50-£19.00 per hour
Benefits:
Employee discount
On-site parking
Schedule:
COVID-19 considerations:
All current government guidance followed
Meet our Baby & Pre School Teaching Team
Jane

Franchisee

Jane's passion for baby and child swimming began when she started taking her eldest son Jack to swimming lessons when he was just nine weeks old, an activity that quickly became the highlight of their week. 

"Thanks to the incredible Puddle Ducks programme, both of my children were able to swim at least 5m before they started school, but more importantly, they have a huge amount of respect for the water, absolutely LOVE swimming and can swim more gracefully and beautifully than most adults! 

 After thoroughly catching the bug, I decided to leave my marketing career and set up Puddle Ducks Dorset in 2008, as one of Puddle Ducks' first franchisees! I am extremely proud to be part of the amazing and nationally recognised Puddle Ducks swimming programmes and to be bringing them to children and mums-to-be in our local area." 

Jane has a huge amount of experience in teaching young children to swim, qualified in Baby & Pre-school, Swim Academy and Elite Swim Academy as well as Aquanatal.  Although she's mostly based at the office these days she still loves to teach her few classes every week, and has loved jumping back into the pool. Her eldest son has now graduated from Puddle Ducks but her youngest son Jasper swims in our Swim Academy classes.

Anna

Head of Teaching & Senior Teacher

Joining the team as Baby & Pre-school Instructor in 2010, Anna very quickly trained to teach our Swim Academy classes and later Elite Swim Academy for older children. Her enthusiasm and love for the job is what makes her so special. She gets amazing results and is a firm favourite with our swimmers, some of whom even re-enact their swimming lessons at home! As our Head of Teaching and Senior Teacher, Anna is responsible for mentoring both new and experienced teachers and ensuring the quality of our lessons is second to none. Anna also runs her own Dance company! Phew! On top of that her Daughter Luna-Rae swims with us too!

Lisa

Lisa joined us as a Baby & Pre-School teacher in 2011. Her infectious smile and love for our classes and the children shines through in each class she teaches. Lisa also has two Puddle Ducks, Ronnie and Evie, who swim in our Swim Academy classes.  Lisa also runs her own Graphic Design company, Minco.

Ashly

Senior Teacher

We have recently welcomed Ashly to our team after she relocated from West Herts, and the Puddle Ducks Franchise there - where she was a Senior Teacher. Ashly has the most incredible rapport with both the children and parents alike and has joined our team like a duck to water!