Here's the winning nomination from Gemma Johnson ...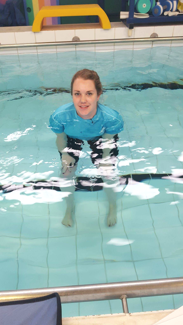 "Callum rejoined Emily's class at the end of last year with a serious case of the water wobbles! Since then he has turned into a little boy who loves the water and his swimming lesson is the highlight of his week. He is so confident in the water now and has just moved up to Kickers. None of this would have been possible were it not for the support and enthusiasm of Emily. She is fantastic at judging his ability and to see him now jumping in and laughing and smiling during every lesson is such a joy. The hardest part of a lesson is trying to stop him from jumping in the pool as soon as he arrives! A far cry from the little boy at the start of the year. Thank you Emily! Love Callum x"

The winning nomination was chosen by our friends at Keel Toys. Here's what they had to say ...
"We chose this nomination for Teacher of the Term as the teacher has given the child the 'Puddle Ducks Difference'. To have a child who started out with a serious case of water wobbles to now being extremely excited to get in the pool shows that the teacher has engaged with the child and allayed their fears. Hopefully Callum will continue to thrive in the water with the guidance of his teacher at Puddle Ducks!"
Emily Baker has won our local Teacher of the Term competition in East Kent and is now through to the National competition! Good luck Emily!
We were overwhelmed with the amount of nominations we received this time, and would like to thank every one of you that took the time to right such lovely nominations for your Teachers. It's great to hear what you all think about our brilliant Teachers!
Thank you again, and good luck from all of us to Emily!