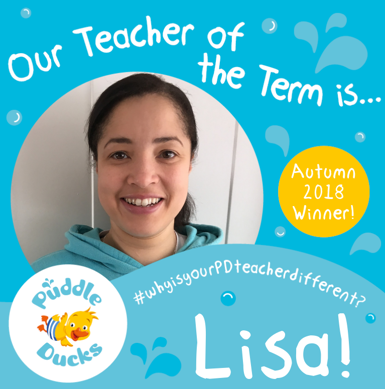 Read the winning nomination from Hannah, mummy to Evie, a Kicker at The Wyvern School in Ashford:
"I would like to nominate Lisa as she is firstly just such a lovely person and always make us feel so welcome. My Evie has a heart condition and cerebral palsy and due to this her left side is very weak and she is unable to use her left arm and hand. Whenever this is an exercise that Evie is unable to do Lisa always adapts this so that Evie is always included in everything that happens during the lessons. Evie really loves her swimming lessons, and this is down to Lisa. Also, down to Lisa teaching skills despite Evie's problems she is really coming along in lessons. We love Puddle Ducks and we love Lisa."
The winning nomination was chosen by our friend Patrick, Corporate and Trust Fundraising Officer for Sands (Stillbirth and Neonatal Death Charity, which we supported for our Charity PJ Week in October). Here's why this nomination was a winner:
"The reason for picking Lisa as the Teacher of the Term is because she went above and beyond to show kindness and inclusivity to make sure Evie is able to love her lessons alongside the other happy swimmers".
We loved reading all the nominations that were sent in, but Lisa's really stood out to us too. We are so thrilled for Lisa, it is so great that her work has been recognised and that Hannah and Evie note Lisa's warmth, skills and ability to adapt her lessons as the reason that they love their swimming lessons.
Thank you to everyone who submitted a nomination – it is so heart-warming to read your kind words, and it just confirms what we already know – our Teachers are the best! We will now be submitting this nomination to our National Teacher of the Term competition, so please join us in wishing Lisa the best of luck!