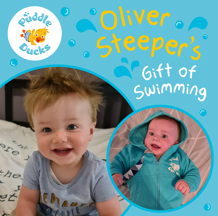 Meet Oliver Steeper. Oliver was a swimmer with us and his Mummy, Zoe, is one of our Swimming Teachers.

Oliver sadly lost his life at the age of 9 months old to a tragic incident at nursery. He is missed by his parents, Zoe and Lewis, and by everyone else who knew him, cared for him and loved him.
At Puddle Ducks, we wanted to do something special to remember Oliver forever, so we have set-up a special fund in his memory; Oliver Steeper's Gift of Swimming. We are going to give one child the gift of free swimming lessons for the rest of the year, funded by us at Puddle Ducks. This has never been done before and will be ongoing, every year, to remember what a wonderful, bubbly, special little boy Oliver was.

Whilst nothing will take the pain away of losing a child, we hope that this brings some comfort to Oliver's family each year. Oliver will always be a part of us at Puddle Ducks and will never be forgotten.