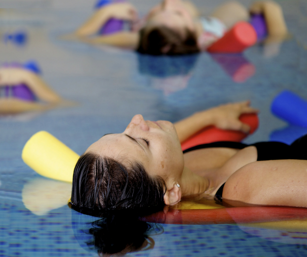 Aquanatal classes for mummies-to-be are held at: 
Bettridge School in Cheltenham, Tuesdays at 7.15pm
National Star College, Wednesdays at 7.15pm
DW Fitness, Gloucester (by Mothercare) Thursdays at 7.00pm.
Our Aquanatal classes take place in the soothing, warm comfort of pools and combine exercise with relaxation activities – the perfect way to unwind and enjoy a little 'me' time.
Exercise and relaxation release your body's natural happy hormones, endorphins, which suppress pain and help you (and baby) feel calm – not only helpful in later pregnancy, but also really important during and after labour.
Classes are usually booked in blocks of 6, though you can join at anytime during the block. 
We run the classes free of charge, however there is a one-off payment per block of classes, which covers your insurance (works out at £6 per class).
For more information and to book your place contact gloucestershire@puddleducks.com or ring 01452 473073 (office open 9am - 2.30pm Monday - Friday).