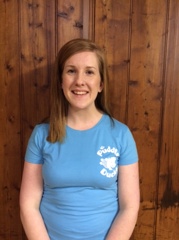 Chloe Griffiths, our new preschool swimming teacher, has been in the pool with us since 2013 - but as a parent, rather than a teacher.
"I was so impressed with the lessons that I decided to train as a teacher and join the Puddle Ducks team. My son loves his time in the pool and his water confidence is great! He's now in the Little Dippers classes, having started in Floaties and progressed through Splashers and Kickers."
Chloe teaches at DW Fitness in Gloucester on Saturday mornings.