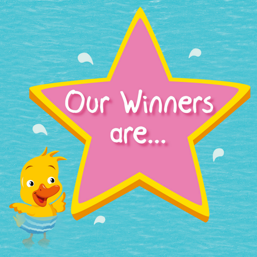 Over the 12 days of Christmas we ran a daily prize draw on facebook, with prizes ranging from a cuddly Puddle toy, to a discount off the next block of swimming lessons.
Thank you to everyone who entered - we hope you enjoyed it!
Here are the lucky winners:
Puddle Ducks rubber duck - Laura Jane
Cuddly Puddle - Jodie Moor
A free swimming lesson - Sonia Scott
Puddle Ducks swim nappy - Kate Wright
I swim with Puddle Ducks bag - Rachel Cunneen
Puddle Ducks bag - Thea Frances
25% off next block of 8 lessons - Rose Baynham
Woggle - Ben Green
Puddle Ducks puppet bath mitt - Lucy Robins
Swim Academy swim hat - Sian Powell
Sinking ring - Becky Ebdon
50% off your next block of 8 lessons - Tara Godsell
Congratulations to everyone!