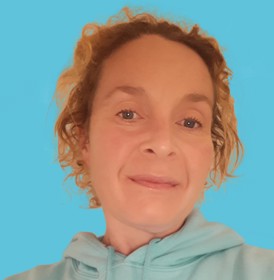 Recently, our customers were invited to send in their nominations for 'Puddle Ducks Gloucestershire Star Teacher – Spring 2020'.
Our independent judge Margaret Wilson, who runs  Mum2Mum Markets in Cheltenham, was asked to review all the nominations and choose a winner. She chose this one from Rosie Burgess:
"She's been so amazing with my tiny baby in Floaties. Always super friendly and helpful. She makes us all feel super safe in the water as well as having a lot of fun! 💙 My baby screamed the whole way through his first lesson and if it wasn't for Catherine being so calm, I wouldn't have gone back. Now he loves it!"
Margaret said she chose this nomination because: "The teacher is obviously so patient and caring, and supportive of not only the babies and children, but of the parents too who often need just as much reassurance as their children. She is obviously a very dedicated teacher".
Congratulations Catherine and thank you Rosie for sending in your nomination.
Catherine will now be a contender for the national Puddle Ducks Star Teacher award – good luck Catherine!!