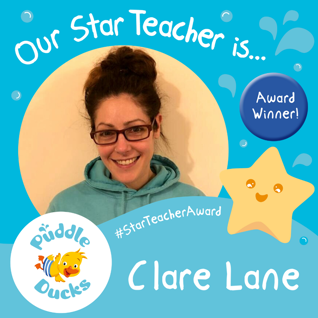 Clare has now won the national Puddle Ducks Autumn Star Teacher award too! Local mum, Lynsey, nominated Clare and this nomination was chosen from all the entries across the the UK.

"Clare Lane is amazing. My daughter Sophie has been swimming with Puddle Ducks since she was 5 months old. She was born premature and has had a lot of challenges. Clare makes Sophie, who is now 4, feel the same as everyone else in the class and understands and adapts everything to suit her needs. She recognises the good days and the not so good days in the pool, but she praises and encourages no matter what. This not only inspires Sophie, but also me and my husband to continue the journey with Puddle Ducks. Clare's patience and fantastic encouragement has boosted my Sophie's confidence :) She is always the first to get to Clare and hold her hand during the Welcome Song!"
The nomination was chosen by Katherine Pullen, Director for Franchise, Business Development at Natwest bank. This is what she had to say:
"Reading through all of the nominations there is one common theme jumps out time and time again - Each of the people nominated are not just teaching the children to swim, they provide the confidence and support to the children and parents both in and out of the water. This nominee has demonstrated their commitment to making the lessons educational and fun for both the children and the parents and highlighted importance of being able to adapt to different people and situations which is a life skill. They truly showed the impact Puddle Ducks can have of the students and their families in and out of the pool."