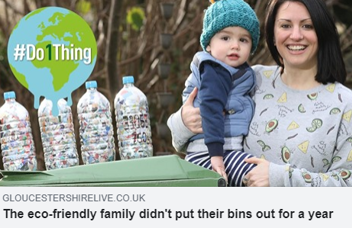 Puddle Ducks Gloucestershire customers Alex, Lisa and their son Remy are one of the many families who have contacted us after seeing our social media posts about our New Year's Resolution - to reduce the amount of single use plastic used at our classes. 
They have been using reusable under nappies as part of their resolve to add as little waste as possible to landfill and we were very pleased to deduct the cost of a lesson from their next monthly payment as a Thank You.
If you are now running out of disposable 'Little Swimmers' type swim nappies, please consider buying a reusable one instead. Then show it to one of our teachers/poolside assistants (or you can send us a photo) and we will credit your account with the cost of a lesson (£14) to say Thank You.
Please note that we still have a 'double nappy' policy, so reusable nappies and liners should be worn under a neoprene, or similar fabric, swim nappy. Reusable under nappies are available to purchase via our online shop or many other retailers now also stock them.
Alex, Lisa and Remy have been in the news recently, as they have just completed a whole year only filling one landfill wheelie bin. Well done to them for quite an achievement! If you would like to read their inspirational story on Gloucestershire Live click here, or here is a link to their blog.