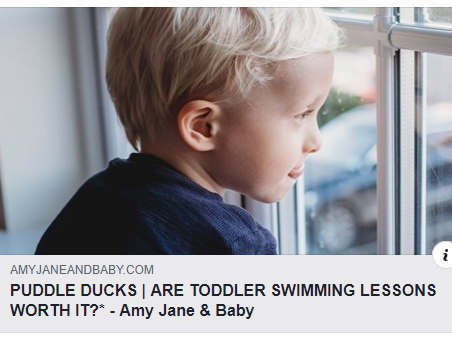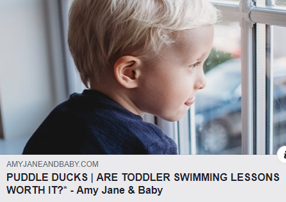 Earlier this year we spoke to a Gloucestershire mum who writes about her life on her website - Amy Jane and Baby.
She says on her website "Welcome to my honest corner of motherhood! I'm Amy, a twenty-something first time mum to a beautiful baby boy muddling through this motherhood malarky and sharing what I have learnt about myself and my little one along the way."
We gave her the opportunity to try our lessons out over a 10 week period. In return she said she would write some honest feedback about the experience.
The family have now completed seven lessons with us and Amy has written her review.
After writing positively about the booking process, Amy goes on to describe the first lesson and how her little boy didn't want to get into the water, as he felt under pressure with people watching. However, seven lessons later, everything has changed…
"F has had seven lessons now and the progress he has made is incredible. He has learnt how to safely get in and out of the pool, can support himself in the water using two mini woggles, positions himself properly when on his back and has taken part in lots of fun activities like jumping off the giant float. I am amazed at how well he has done and how he has responded to the teachers too! Most importantly, his confidence in the water has grown so much which has been such a pleasure to see."
"It's not just F who has made progress though, both G and I feel so much more confident about taking him swimming now. We know the correct way to support him in the water and have an idea of what is appropriate for his age!"
At the end of the article, Amy asks the question – Is it worth it? Her answer is "Definitely! Of course you can take your child swimming yourself but that doesn't replace the information and advice you receive when you attend a structured lesson. Swim safety is so important and I am amazed at how quickly F is progressing through our block of lessons."
You can read the whole blog for yourself…
https://amyjaneandbaby.com/2019/11/26/puddle-ducks-are-toddler-swimming-lessons-worth-it/
Many thanks to Amy and her family for trying our lessons and giving her review. We gifted the lessons to Amy knowing that whatever she wrote, it would be her honest opinion. It's great to see that Amy and her family enjoyed and benefited from the lessons we are so proud of.