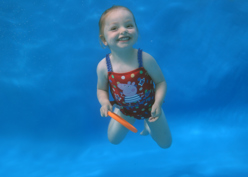 We will be holding an underwater photoshoot in Gloucestershire, at The Shrubberies School in Stonehouse on Sunday 21st May 2017, from 1.30pm. 
Photo shoots are a great way of capturing the love your child has for their lessons forever in a photo and are great for Floaties, Splashers, Dippers and Swim Academy children.... If you're not sure whether your child would be happy you can talk to your teacher about it in class.
It will cost £30 to reserve a place on the shoot, with photographs being an additional cost. Further details will be sent to all current customers via email and bookings will be taken from April, however email us now on gloucestershire@puddleducks.com to register your interest.