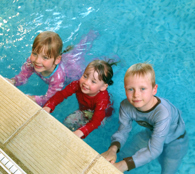 A big thank you to everyone who took part in our pool Pyjama Parties. More than 400 little swimmers raised £2200 for local charity Winston's Wish.
A vital part of learning to swim, is learning about pool safety and life-saving skills. If accidents happen, it's often when fully clothed. We believe it is our duty to ensure that swimmers know what it feels like to be in the water while wearing clothes.
Our Pyjama Party classes ensure a child understands that even though it feels heavier with clothes on, they can still kick to the surface and then turn and reach for the side. And of course, they learn this while having lots of fun and raising money for Winston's Wish, the leading childhood bereavement charity in the UK.