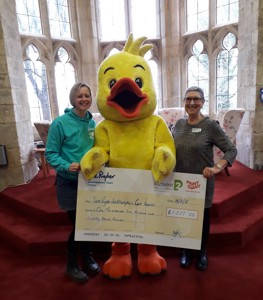 Over the last few weeks, swimmers and staff have been raising money for Sue Ryder Leckhampton Court Hospice.
During the recent charity Pyjama Week, our little swimmers raised £772 while learning essential life-saving skills. Pyjama Week ensures that all our swimmers gain a vital understanding of water safety and know how it feels should they ever fall into the water fully dressed.
Puddle also joined hospice volunteers at the Cheltenham Christmas light-switch on and parade, raising money via bucket donations.
Following all this fundraising, Puddle visited the Sue Ryder Leckhampton Court Hospice to have a look at the amazing work they are doing, here in Gloucestershire.
The hospice is the only palliative care inpatient unit in Gloucestershire and provides expert palliative care and support for people who are living with a life-limiting condition, as well as supporting their families.
Puddle also presented a cheque for the money raised during Pyjama Week, plus an additional donation from our own Charlie Goodenough to sponsor the charity's Rubber Duck Race, on Sunday 13 January at Pittville Park.
Don't forget to come along to the Duck Race. Puddle will be there!
Photo: Charlie Goodenough and Puddle with Paulette Vallois, Community Fundraising Ambassador, Sue Ryder Leckhampton Court Hospice.