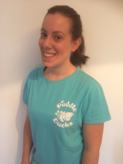 Holly joined us as a customer in the pool in April 2015, with her then newborn Isabelle, and loved her lessons so much she came to work for us! We feel extremely lucky to have her on board, as she achieved one of the best assessment results ever acheived in Puddle Ducks - no mean feat!
"I worked as a secondary school teacher prior to having Isabelle, and like many others did not enjoy returning to work full time after my maternity leave ended. Having taken her to Puddle Ducks from just a few months old, we loved our time in the pool and I could see that training to be a Puddle Ducks teacher was a way to continue my love of teaching, whilst working around my little girl. It is so much fun I almost forget I'm at work!"
Holly teaches at The Shrubberies School in Stonehouse on Sunday afternoons.