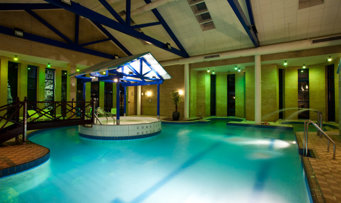 All you need to know – The Hallmark Hotel

Matson Lane, Robinswood Hill, Gloucester, GL4 6EA
We can't wait to welcome you to Puddle Ducks at The Hallmark Hotel – in the meantime, here's some information that we hope you find useful. Have a splashtastic time!
Location: The Hallmark Hotel. Opposite the dry ski slope in Gloucester
Parking:  Free in the large hotel car park to the hotel. If the car park at the front is full, follow it round to the left for extra spaces. YOU MUST ADD YOUR REGISTRATION DETAILS TO THE HOTEL'S CAR PARKING SYSTEM VIA THE TABLETS ON MAIN RECEPTION AND LEISURE RECEPTION, TO AVOID GETTING A FINE EACH WEEK.
Essential information:
The leisure club is located to the right of the hotel
Enter via the main hotel entrance where you will pass reception, follow the steps down to the right and follow signs to Leisure Club. There are 13 steps to manouvre plus 5 in the car park area so buggies will prove difficult.
You must sign in at the Leisure Club reception, before going to the changing rooms and ask for the code to the changing rooms.
Don't forget to add your car registration to the tablet on reception to make sure you don't get a fine for using the car park. This needs to be done weekly.
Whilst waiting for you class to start please do not enter the toddler pool or main pool (unless you are Members). The Teacher will call you over when your class is due to start
Please shower before entering the pool 
A well-fitting neoprene swim nappy must be worn with a disposable swim nappy or one of our environmentally friendly NappyWraps & Liners underneath if your child is in Floaties, Splashers or Kickers and in other programmes if they are not potty/toilet trained
All Swim Academy Children must wear swim hats in the pool. You will be given a hat at your first lesson. For information, you can view our range of goggles and other Swim Accessories here.
 Changing Rooms:
The changing rooms are found through the corridor past the Leisure Club Reception. Please sign in at the Desk.
Please take a £1 coin to use in the locker
Once changed please make your way poolside and bring your towels
Please take all nappies home with you 
For safety reasons we do not recommend you change babies / children on the benches.
Children over the age of 8 must change in the changing room appropriate to their respective gender. If you are not happy for your child to change alone, there is a disabled / family change room that can be used.
Exclusivity: We have a large roped off area of the pool for our classes
Access:
Spectators are welcome in the designated seated area
Unfortunately, we cannot allow photographs to be taken at this pool – this is to comply with club rules.
Technical Information:
Pool temperature: 30-33°C
Poolside assistant: We have a Poolside Assistant at this venue to help you during preschool lessons.
Depth: 1.35m (Deeper than most pools - at 5ft 2in tall you will be on tip toes)
Maximum class ratios:

8 children/adult pairs: 1 teacher (Floaties, Splashers & Kickers)
8 children/adult pairs: 1 teacher (Little Dippers & Dippers)
8 children: 2 teachers or 4 children : 1 teacher (Swim Academy – Levels 1 & 2)
8 children: 1 teachers or 10 children: 2 teachers (Swim Academy – Levels 3, 4, 5 & 6)
Helping you to make your special time last even longer…that's the Puddle Ducks' difference
We like to make life fun and easy for our Puddle Ducks customers so here are some local places we think you and your children may like. You could even meet up before or after the class with your Puddle Ducks classmates.
Closest café: You are welcome to visit the hotel lounge for refreshments. Please ask at reception for directions or information.
Closest park: There is a lovely country park close by - Robinswood Hill Country Park, Reservoir Road, Gloucester GL4 6SX
Other local attractions: Gloucester Ski and Snowboard Centre is opposite the hotel.