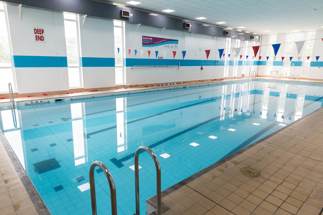 All you need to know – Archway School  
Archway School Sports Centre
48 Pagenhill Estate
Pagenhill
Stroud
GL5 4AU
Swim Academy coming to Archway School in January 2023
Parking
There are parking spaces on site
Essential information
Puddle Ducks have exclusive use of the 7.5m x 20m pool space for their Swim Academy lessons.
Pool temperature here is 29-30 degrees 
The pool slopes from 0.9m - 2.1m. Children will need to be able to stand in 0.9m.
There is a poolside assistant at this venue
Attire 
All Swim Academy children must wear swim hats in the pool. You can find our range of goggles and other Swim Accessories in our online shop.
Our online shop stocks a fantastic kids swimwear collection plus super useful bags, towels, changing mats and much, much more!

Spectators
We are not able to allow any additional people at your class, other than your child and the one adult who'll accompany them. Unfortunately this does include siblings.
Arrival time
Please do not arrive any earlier than 10 minutes before your lesson starts. This should give you enough time to get poolside and prevents lots of people from waiting around unnecessarily and overcrowding in the changing areas.
Entering the building
Please park outside the sports centre and follow the path around the building. The pool is located further along the path, past the Reception. A Puddle Ducks A Frame will be visible outside the pool building so that you know you're heading in the right direction. 
Enter the pool building via the changing room appropriate to your gender not your child's. If your child is over 8 they may be asked to change in their gender appropriate changing room and enter that way and meet you poolside.  
Arriving swim-ready
Your child should arrive swim-ready at the venue i.e. with your swimming costume/trunks on underneath your clothes. This ensures changing rooms are as uncrowded as possible. 
We advise that you bring easy, comfortable clothing for your child – items like onesies might be easiest for children to get changed quickly and keep them warm.
Entering the pool area
Once ready please make your way poolside. There will be some chairs for the accompanying adults. Please wait for the teachers instruction before allowing your child to enter the water.
You can find lots of additional useful information about attending our swim classes on our FAQs page.