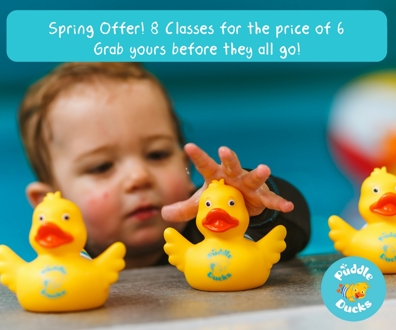 Spring has finally sprung and with summer holidays just around the corner what better time to introduce your little one to swimming and get them ready for fun in the pool on holiday!
We are currently offering Families Online readers 8 of our award-winning classes for the price of 6 (which is a £26 discount off the normal price) at our pools at DW Fitness Trafford and DW Fitness Oldham when you join our Baby & Pre-school swimming programme for the first time.
Swimming is one of the most amazing bonding experiences you can share with your child and it is one of the few activities that allow you to have fun together whilst learning a lifelong skill! Our fab classes are welcoming and friendly and our expert teachers are some of the best qualified in the industry.
This spring offer is running for a very limited time only and is subject to availability so you will need to be quick to claim your place. If you would like to take advantage of the offer, all you have to do is fill in your details on the form below and a member of our team will be in touch to book you and your little one into the most suitable class*
We look forward to seeing you in one of our award winning classes soon!
x
*Terms and Conditions:
Not valid in conjunction with any other offer.
Offer only applies to DW Fitness Trafford & DW Fitness Oldham
Offer applies to new first-time customers only
No Free Trials will be given with this offer.
Promotion ends on May 12th 2017 and offer must be claimed by this date