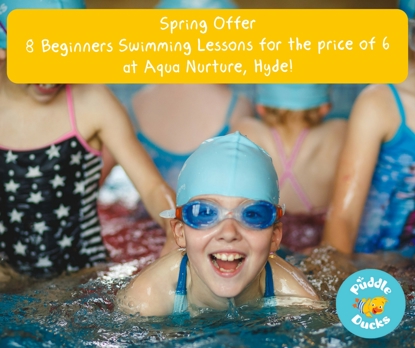 Spring has finally sprung and with summer holidays just around the corner what better time to introduce your little one to beginners swimming lessons and get them ready for fun in the pool on holiday!
We are currently offering Families Online readers 8 of our beginners swimming lessons for the price of 6 (which is a £26 discount off the normal price) at our purpose-built pool, Aqua Nurture, when you join our Swim Academy programme for the first time.
Our beginners classes are suitable for children aged 4-10 and are so popular with our customers for the following reasons:
Guaranteed small class sizes with only 4 students per teacher, who is in the water with your child at all times
Highly trained teachers who develop your child to achieve great swimming technique AND fast progress
Lots of individual attention and feedback to both child and parents
Water confidence and life-saving skills taught in a FUN and nurturing way
FREE catch-up lessons if you can't make a class due to illness or holiday
This offer is running for a very limited time only and is subject to availability so if you would like to take advantage of the offer, all you have to do is fill in your details on the form below and a member of our team will be in touch to book your little one into the most suitable class*
*Terms and Conditions:
Not valid in conjunction with any other offer.
Offer only applies to Aqua Nurture, Hyde
Offer applies to new first-time customers only
No Free Trials will be given with this offer.
Promotion ends on May 12th 2017 and offer must be claimed by this date