What better way to experience our unique child led swimming lessons?
Book into any Class (with space), any Venue, any Day, and get your first class completely free. 
Guaranteed ongoing place in your chosen free trial class if you want to continue.
(scroll to bottom of the page for our booking form)
How it works:
You'll pay for 8 classes and receive an 9 week block of classes. YOUR FIRST CLASS IS COMPLETELY FREE. If you aren't completely satisfied for any reason whatsoever by your second class you can cancel and receive a full refund. And if you aren't happy after your third lesson you can still receive a refund for any unused lessons!
We know how important it is for you to find the right swimming lessons for your little one, and with us you can just relax and enjoy your swimming.
Our Classes: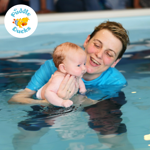 Floaties (Birth to 9 months)
Babies have a natural affinity with the water and our programme gently nurtures this, building confidence, both in the child and often the parent. Our programme allows our babies, even at this early age, to make choices about how and when they put their faces in the water, and is a bonding experience like no other.
Splashers (6 to 18 months)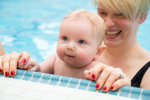 Once our babies have reached 6 months old, they are often ready to move on. The Splashers class is full of toys, songs and splashing – and of course lots of ducks! You'll really start to see progression in this level, with the littlest ones learning from their friends as well as their parents and our very talented teachers. Watching a baby that can't yet walk initiate their own head down swim is an amazing thing to witness.
Kickers (15 to 30 months)
Whilst in our Kickers class, the children really start to communicate with us. Our teachers start the journey towards communicating directly with your little ones, and we hear them start to use language, responding to key words, and really engage with the classes. We use two short woggles to help them move around by themselves and their confidence blossoms. 
Our teachers are specially trained to adapt activities for every child. As with all our programmes, the focus is on encouraging and empowering your child, never forcing and never undermining. 
Little Dippers (2 - 4 years)
Little Dippers is the last level (in baby and pre school classes) where children can enter directly. We take children between 30 months old and four years. Because of the way our teachers are trained and our lessons have been designed, in Little Dippers we can accommodate those who are totally new to swimming as well as those who have been to Puddle Ducks before.
Little Dippers is full of new skills to learn; back swimming, independently pushing from the wall, head down and swimming to adult, reaching under water for a sinking ring, treading water… and many more! Children are still supported in every way they need, and only moved forward when they tell us they are ready.
Dippers (2.5 -4 years, Advanced)
Our Dippers classes are all about preparing our little swimmers for the day they go into the water without their adult when they reach school age. In Dippers, our focus is on helping children realise their swimming potential, whilst teaching personal survival skills to them. Many of our Dippers achieve their 5 m badges before they move on to school! 
Our Dippers are fun-loving, strong-swimming, ever-ready little superstars – just stand back when they jump in or you're getting soaked!
Want to claim your FREE class?
Simply enter your details in the form below and a member of our team will email you back with all appropriate local classes with availability
We'll look forward to hearing from you!
Valid for new customer bookings only.
Cannot be used in conjunction with an Introductory Offer or any other Promotional Offer.