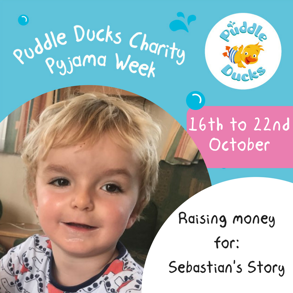 Our Charity PJ Week runs annually to raise money for a local cause. In 2017 we proudly supported Sebastian's Story because the charity was founded to raise vital funds for care and equipment for Sebastian, one of our Puddle Ducks who has been diagnosed with Duchenne Muscular Dystrophy.
Sebastian is 3 years old and has lit up the lives of his family and his teachers at Puddle Ducks with his gorgeous smile, his love of doors and hinges and his singing since his arrival. He has swam with Puddle Ducks since he was 6 weeks old and is at his most confident when in the water. Sebastian's condition now means he uses swimming as part of his physiotherapy instead but he really misses Puddle Ducks!
Duchenne Muscular Dystrophy (DMD) is a progressive muscle wasting disease. It is caused by a genetic mutation which prevents the body from producing the protein dystrophin which is needed to build and repair muscles. Without this protein, all of the muscles in the body progressively and irreparably waste. Most children with Duchenne will use a wheelchair full time by the age of 12, although many need this earlier. They will then begin to lose arm and upper body function throughout their teens, and will face life threatening problems by late teenage years as the muscles of the heart and lungs weaken. Very few live to their 30th birthday, and many lose their lives to this condition long before this. 
At the moment, there is only one available treatment for DMD, but that one treatment is specific to a more common gene mutation within the Duchenne diagnosis. Sebastian has an incredibly rare gene mutation within this rare diagnosis. There is no treatment and no cure. Duchenne is currently life limiting and terminal. 
Sebastian's family are committed to doing everything in their power to give Sebastian the very best life they can for the time he is with them. He is very loved by many people and nothing will ever change that. 
Puddle Ducks Lincolnshire proudly supported Sebastian and his family by fundraising for a specially adapted trike which could enable Sebastian to feel as though he is riding a bike and give him some freedom, and a specially adapted pushchair for the family to use that can accommodate both Sebastian and his little brother Toby. These items will help Sebastian as his condition develops and will give him as much independence and happiness as possible.