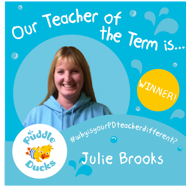 Congratulations to the lovely Julie who was the winner of our Teacher of the term competition for Spring 2017.
Julie had 4 very lovely nominations from her Puddle Ducks! The winning nominations was from Lizzie Mum to Sebastian who has swum with us since he was tiny, here is what Lizzie had to say about her time with Puddle Ducks.
Sebastian and I have always loved our puddle ducks swimming lessons, and we have had Julie as our teacher since she came back from maternity leave. However, Sebastian started to struggle with the little dippers lessons, and seemed to loose his confidence. He was struggling with motor skills in general. In October he was diagnosed with Duchenne Muscular Dystrophy, a life limiting, progressive muscle wasting disease. We really wanted to carry on as normally as possible, and Julie made so many adjustments to our classes so that Sebastian was still able to join in and regained all his confidence in the water. Most importantly, Sebastian needs to swim as part of his physiotherapy going forward, and because of puddle ducks and mainly because of Julie he is at his happiest and most confident when he's in the water and I can't express how much that means to us.
What a lovely nomination! We'd like to say a massive thank you to Lizzie and a HUGE well done to our winner Julie