Babies and toddlers in Frodsham will soon be learning unique swimming and lifesaving skills, as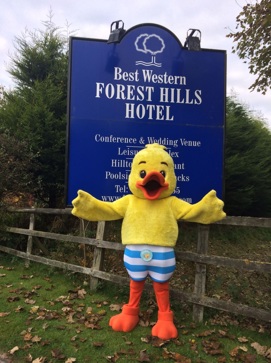 we are bringing our classes to Forest Hills Hotel Best Western from Thursday 10th November. Parents who sign up for Puddle Ducks swimming lessons will be able to take their babies and toddlers, who can start at any age from just a few days old, to the classes to have fun while they learn to swim in a safe, encouraging environment.
Our classes teach activities including swimming, submersion, floating, songs and games.  Each session incorporates rhyme, music and movement with class soundtracks that have been written by professional musicians.  The focus is on fun and bonding for new and experienced parents and their little ones, meaning youngsters don't even realise they're learning to swim and are acquiring a skill that could save their lives.
Franchise Manager Rachel Bateson, mum to 2 children herself, says: "I firmly believe that swimming is a skill that all children should be taught from an early age.  It's fun, helps them interact with other children and encourages them to lead a healthy life style right from the start.  A whopping 15% of UK children can't swim, and we're on a mission to change that, so it's fantastic that we've signed up a lovely new pool in Frodsham from which to teach our classes!"
Rachel continues: "The teaching programme and methods we use are constantly evolving, from the songs that we sing while the babies and parents are in the pool together, to the techniques we teach.  Puddle Ducks classes are based on age, not ability, so children are learning amongst their peers – this provides a great opportunity for parents to meet other local mums and dads, and many become friends for life. Class sizes are limited to eight, so we can really give everyone the best attention. And, because we're trained to recognise and work with different ability levels within the same group, babies and toddlers are given an individually tailored swim programme that builds their confidence and lets them learn at their own pace. We also put a real focus on teaching water safety, encouraging children to learn to save friend's lives without endangering themselves, as well as learning how to stay safe themselves."  
The first lessons at Frodsham are already selling out fast. Classes will be taking place on Thursdays mornings from 10th November.   For more information, contact us on 01477 410080 or via email at midcheshire@puddleducks.com.