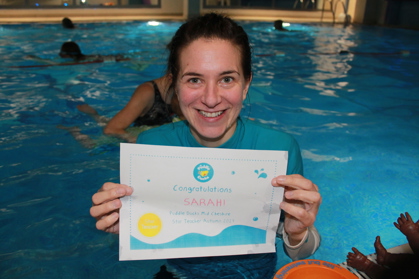 Our brilliant teacher Sarah is thrilled to have been named as Puddle Ducks Mid Cheshire's Star Teacher of The Term, due to her dedication and enthusiasm teaching baby and pre-school children to swim.
Sarah was nominated for the award by appreciative parents and guardians, and the overall winner was chosen by an independent judge.
One customer nomination mentioned that Sarah is an excellent teacher, who takes her time to recognise each child's individual abilities and areas of development, as well as knowing the children and parents well and works on every child's development as if he/she is the only child in the class.
Helen Crowther, who judged the award is from Children's Adventure Farm Trust (CAFT) said:
 "All of the nominations were lovely. It really was a difficult to pick just one winner. However, I selected Sarah as the winner as the comments about her teaching style were heart-warming. As someone who works with children of all abilities, I can appreciate how important it must be for parents to entrust their child to someone who understands that every child is an individual with their own way and pace of learning.
"It seems that Sarah does a fantastic job of really getting to know the children in her classes, treating them with respect, care and understanding. As a result, the children achieve so much. I love the fact that the children talk about her at home and look forward to learning with her. We all remember those teachers who took the time and care to help us learn. I'm sure Sarah will be remembered by her students for a long, long time."
It was just over a year ago, when Sarah was taking her son, 18 month old Ralph to swimming lessons, that she noticed Puddle Ducks were advertising for a new swimming teacher. With a background in lifeguarding and working with children, she realised this was a great opportunity. She now teaches for Puddle Ducks at both the Seashell Trust in Cheadle Hulme and DW Fitness First in Macclesfield and she hasn't looked back since.
Utterly thrilled with her award, Sara commented: "As the saying goes 'if you love your job, you'll never work a day', and that's exactly how I feel teaching children to swim. I feel so honoured to have been nominated for this award, let alone win! I would like to thank my amazing customers for nominating me, as it really does mean a lot." Congratulations Sarah!