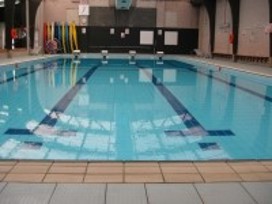 All you need to know – Sandbach Boys' School Pool.
Sandbach Boys' School, Crewe Road, Sandbach, Cheshire CW11 3NS
We can't wait to welcome you to Puddle Ducks at the Sandbach Boys' School – in the meantime, here's some information that we hope you find useful. Have a splashtastic time!
Location: Sandbach Boys' School, Sandbach
Parking: Please park carefully either in front of the school buildings in the main car park or near the pool. The pool is to the left of the school buildings and to the right of the all-weather pitches. Disabled parking bays are found near to the pool – only disabled badge holders will be allowed to park here.
Essential information:                                    
Enter the left of the building via the signposted entrance to the pool spectator area. Please close the door behind you and remove your shoes here (there is a shoe rack against the wall at the far end)
The school operates a 5mph speed limit
There are give way markings on the 'corner' by the tennis courts
Do not park in the 'no parking' yellow zone by the pool as this blocks the way for pedestrians and also emergency vehicles
Please observe any directions from any member of school staff at all times
There is an 'in' and 'out' entrance and exit points next to the yellow bollards as you enter the side car park
All Swim Academy Children must wear swim hats in the pool. You can find these plus our range of goggles and other Swim Accessories here
You can find lots more useful information about attending our swim classes on our FAQs page
Exclusivity: Puddle Ducks have exclusive use during hire times (four classes run simultaneously).
Changing rooms: Changing rooms are accessed from the poolside. There are separate changing rooms for males and females and we operate a strict Male/Female changing room policy for Swim Academy customers. This means:
Female Changing rooms - All mums should go in here. No dads. Any child under the age of 8 can go into this changing room accompanied by their mum.

Male Changing rooms - All dads should go in here. No mums. Any child under the age of 8 can go into this changing room.

Children aged 8 and over are to change in their own sex changing room. This may mean meeting their parent on poolside if they are accompanied by a parent of the opposite sex.
There is a separate cubicle at all pools if anybody is uncomfortable with these arrangements.
Poolside assistant: There is a Puddle Ducks poolside assistant.
Technical information:
Pool temperature: 29-30°C
Depth: Shallow end: 0.9m-1.2m (Beginners & Intermediate classes). Deep end: 1.2-3m (Development & Advanced classes).                 
Helping you to make your special time last even longer…that's the Puddle Ducks' difference
We like to make life fun and easy for our Puddle Ducks customers so here are some local places we think you and your children may like. You could even meet up before or after the class with your Puddle Ducks classmates.
Closest play-parks:
There is a lovely park in Sandbach next to the library, it has a great play park -  for pre-school and school age children. There's also a football pitch and outdoor gym.
Closest café:
There are lots of cafes and places for dinner in Sandbach.
Other local attractions:
Wheelock Hall Farm has an outdoor play area, animals to feed inside and outside. They have a large farm shop which also sells gifts and toys. They also have a large café for coffee or lunch.