You can start your Puddle Ducks journey even before your bundle of joy arrives. Experience the perfect balance of relaxation, laughter and exercise - a wonderful way to unwind and stay healthy in pregnancy. Our Aquanatal classes are a fabulous activity for mummies-to-be.Our expertly designed Aquanatal programme takes a holistic approach to mums' physical and mental well-being, combining relaxation with cardiovascular exercises to help prepare the body for birth.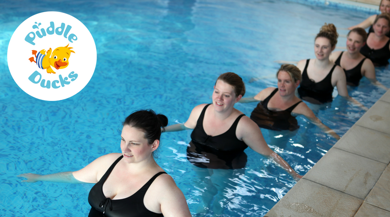 And once baby arrives, the familiar noise of the pool means they'll be relaxed when you take them swimming too!
The cost of our Aquanatal classes is £5.00 per class bookable in blocks of ten. Another great bonus is that once your baby arrives, you are entitled to a 20% discount off when you book a block of Floaties classes (0-6 months) with us, all because you were an Aquanatal customer!
Please see below for a list of our current Aquanatal classes:
Tuesdays 7pm and 7.30pm, Crowne Plaza Hotel (Newcastle upon Tyne)
Wednesdays 7.15pm, Benfield Sports Centre (Newcastle upon Tyne)
To enquire about our classes or simply ask us a question, please complete the form below. We look forward to hearing from you soon.