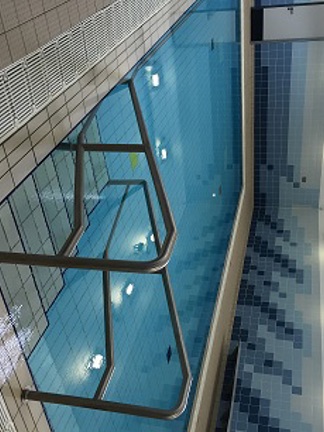 All you need to know – Beacon Hill School
Rising Sun Cottages, Wallsend, NE28 9JW
 
We can't wait to welcome you to Puddle Ducks at Beacon Hill School – in the meantime, here's some information that we hope you find useful. Have a splashtastic time!
Location: Beacon Hill School
Parking: Free parking on the school site. On weekdays, the car park can get very busy so please allow ample time to get to class and if the car park is full, please park in the surrounding streets. There is a car park at the end of the lane at Rising Sun Cottages (other end to the school) which we are able to use if the school car park is full.
In the school car park, please park in marked bays only. Please do not park in the disabled spaces or in the bus parking area
Please keep hold of your child's hand and cross the car park at the marked crossings only
Essential Information:
We're so lucky to be able to offer classes from the toasty hydro waters at Beacon Hill School, Wallsend
Spectators are allowed to sit poolside at this venue but must wear blue shoe covers. Covers are provided at the entrance to the pool hall
Please ensure that you use the nappy bins provided in some of the changing areas for disposal of nappies, or take your nappy home with you
No food is permitted on the poolside or in the changing rooms, please save your child's snack until after you have left the pool
The school have kindly requested that you feed your baby either in the pool, or the changing area, or in the parents' room which is just off reception. Please respect this and don't feed your baby in reception or in the corridor. (Occasionally there may be a meeting booked in the parents' room so please just check at reception first)
WARNING:  Please don't use the school's beds or benches for changing your baby – they are raised and there is a real danger of babies rolling off and causing serious injury.  We advise that you bring along a changing mat from home to use to change your baby at floor level
A well-fitting neoprene swim nappy must be worn with a disposable swim nappy or one of our environmentally friendly NappyWraps & Liners underneath if your child is in Floaties, Splashers or Kickers and in other programmes if they are not potty/toilet trained
Please enter and exit the pool using the main double doors in the corridor only. The doors in the changing rooms that lead on to the poolside cannot be used. Your poolside assistant will be on hand to help and direct you.
Changing rooms: There are 3 communal changing rooms which are clearly labelled for male and female carers. Our classes are busy and the changing area has limited space so please be courteous to other parents and don't leave your belongings on seats or changing tables when you are in the pool
Please try to vacate the changing area as quickly as possible after your class to make room for the next group of parents. This is particularly important if you attend the last class of a Puddle Ducks session as the pool is very well utilised and turnover is tight before the next session. If you are in the last class and need to feed your baby after class, please use the parents' room where possible so the next group can get access to the pool.
If you need any assistance at all, our poolside assistant is there to help you and your child so please don't hesitate to ask.
Exclusivity: Puddle Ducks have exclusive use during hire.
Access:
Weekdays
Please use the main entrance and sign in at reception.
Our poolside assistant will come to reception 15 minutes before the start of each class to take you down to the pool so please make sure you are not later than this. If you find that you are late, our poolside assistant will come back and check but you may find that you have to wait. If you arrive 5-10 minutes before the start of your class, you may miss the start of your class but you must wait in reception for our assistant to collect you.
Weekends
On a weekend the main school will be closed so please use the Community entrance which is to the right of the main entrance.
Technical information:
Pool temperature: 34°C   Warm hydro temperature so no need for a baby warmer
Poolside assistant: There is a Puddle Ducks poolside assistant  to assist you
Depth:  0.9m graduating to 1.2m
Maximum class ratios:

10 children/adult pairs:1 teacher  (Baby & Pre-school classes)
8 children: 2 teachers  (Swim Academy classes)
Helping you to make your special time last even longer…that's the Puddle Ducks' difference
We like to make life fun and easy for our Puddle Ducks customers so here are some local places we think you and your children may like. You could even meet up before or after the class with your Puddle Ducks classmates.
Closest play-park
There is a playpark nearby at the bottom on Mullen Road. Leaving Beacon Hill School and Rising Sun Cottages, turn right on to Kings Road North. At the cross roads turn right on to Mullen Road. Cross the mini roundabout – the play park is a little further along on the left.
Closest café
There are numerous cafes and restaurants available on the North Shields Fish Quay which is only a few minutes' drive from the pool
Silverlink Shopping Centre is also only a few minutes' drive from the pool with restaurants and a coffee shop within Marks and Spencers.