Swimming with your baby is one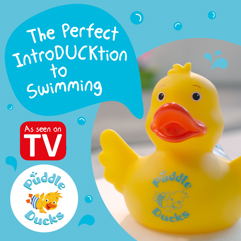 of the most wonderful experiences you can share together.
There are many benefits that come with swimming at an early age, especially as babies already have a real connection with water from birth. Taking part in swimming lessons can build up independence in the water (and out of it), as well as helping to develop higher brain functions and core muscle.
If you're thinking about taking your baby swimming but aren't sure how to get started, we've created an insightful guide that explains the main reasons why swimming can be helpful to both parent and baby, alongside all the useful information you need.
Our guide also outlines some crucial safety advice, explains what happens during baby swimming lessons, and advises what to do if your baby seems nervous or unhappy in the water.
Ready to book?
Just complete the form below with your details and availability and we'll let you know about our Floaties spaces most local to you, alternatively you can send us an email northhampshireandreading@puddleducks.com or call us on 01257 262622 
Taking a small baby swimming does require some planning and preparation so that you can focus entirely on your baby when you are in the water. 
Try to manage sleeps and feeds so that your little one is not too tired and has fed about an hour before swimming (this can be much easier said than done and we all understand that feeding and sleeping patterns will change considerably over time so just do you best!)
Arrive about 15 minutes before your class is due to start. This is long enough to prepare - but not so long as to overheat and get grumpy!
You can bring your baby as soon as you are both ready, you don't need to wait until they have had their jabs (we follow current NHS advice). We recommend 4-6 weeks - but it can be sooner if you are really keen, the pool is warm enough and baby is a decent size. We'll discuss this with you in advance if you are keen to start early!
Choose a clean and well-managed pool, ideally heated to over 32ºC - but certainly over 30ºC (all of the pools we swim Floaties in are over 30ºC) 
What should baby wear? A well-fitting neoprene swim nappy must be worn with a disposable swim nappy or an environmentally friendly NappyWrap & Liner underneath. Why not buy one of our great value starter packs which contain everything you need for your swim lesson.
It's a good idea to bring a changing mat or towel to lay on the floor poolside to help get your baby into the pool and to change your baby on after the session.
Do I need to be able to swim? No. Many of our parents are non swimmers. Your feet will be on the floor at all times if you wish and you will be taught by highly trained professionals. You and your Floatie are perfectly safe.
It's a good idea to bring a spare towel poolside to help keep baby warm after the session.
Don't forget to bring you costume and towel!
Relax! the most important thing for you to do is be as chilled out as possible and enjoy every second! Your Floatie will pick up on your mood and the more relaxed you are the more fun they will have.
What to expect
The sounds, smells, and extra stimulation of the pool environment is a lot for Floaties to take in at first and there can be tears within the fist few weeks. Expect this. It's normal and natural. Consider a quiet and serene class to be a bonus! Everyone will have their turn with an unsettled little one from time to time - but they always settle down in the end.
First Swims are usually best done with their main carer (usually mum). Little ones take their comfort from mum and she is familiar and soothing to them. This is not a rule, dad's are welcome to do first swims and many dads have a fabulous experience. We generally find that after 2 or 3 swims with mum Floaties are much more settled and receptive to swimming with dad. Dad often appreciates being able to watch too and build his own confidence from the side!
When your baby gets out of the water they will probably be cold, tired and hungry. Have a generously sized hooded bath towel ready and milk or a healthy snack with you.
Download the guide to find out why swimming is so great!