Join our North Hampshire and Reading Team!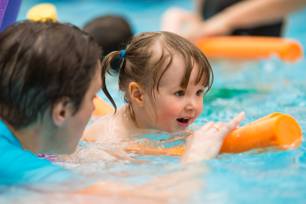 We are a close-knit team at Puddle Ducks North Hampshire and Reading. We love to give our customers great memories and a fantastic time at their swimming lessons every week.
We have a new role available in the North Hampshire and Reading franchise teaching babies and toddlers from birth to four years. Hours include Friday afternoons at Frimley C of E and Saturday afternoons at Downwind Bagshot with more to come as our franchise grows.
To become a teacher, no previous experience is necessary as you will go through all relevant training before you start your new role. 

We are always interested in hearing from people who live in the North Hampshire and Reading area and share our passion. You must have a bubbly personality and a passion for teaching children to swim. No previous qualifications are necessary.


Simply complete the form below and we will be in touch!
Current Vacancies
Baby and pre-school teacher - Saturdays at Downwind Bagshot from 1.30pm to 5.45pm, Fridays at Frimley C of E from 1.00-2.30 plus more to come.  No experience is necessary for this role as training will be provided. We are looking for a confident, bubbly and reliable person for this role. We estimate that you would start teaching from September.
Baby and pre-school teacher at Highdown School on Sun pm
Poolside assistant - Tuesdays and Thursdays in Reading from 9.45-12.45 plus occasional cover on Saturdays from 12.30-18.15. This role involves taking the register, some light cleaning and helping customers with any queries that they may have. This role would start from April.
Baby & Pre-school Teacher - West Berkshire

Your chance to do the best job in the world!

We have a part time roles available in West Berkshire teaching swimming to babies and toddlers from birth to four years old.
Becoming a baby swimming teacher is an amazing job! When you work for Puddle Ducks you're part of such an enthusiastic bunch of talented teachers, both locally here in West Berkshire and nationally, who give you so much on-going training and support.
We offer highly competitive rates of pay and excellent career progression. No previous teaching or professional swimming experience is required as full training is provided. We are here to support you with your training at every step along the way. You need to enjoy being in the water and able to swim, have a confident and friendly personality, be flexible and a team worker.
Becoming a swimming teacher for Puddle Ducks takes hard work and commitment, but brings huge job satisfaction and fits in brilliantly around family life and other work commitments.
You will be required to work at weekends and evenings and must be able to travel to our various different pools in and around West Berkshire.
Download our teacher prospectus for more information!


For more information, or to apply for this role please complete our online form here or e-mail a CV and covering letter to: westberkshire@puddleducks.com

Swim Academy Teachers – West Berkshire

Your chance to do the best job in the world!

We're seeking a number of enthusiastic people to join our fantastic team to teach our popular Swim Academy classes for school aged children, aged 4 – 10 years. A passion for water, swimming and working with children is a must-have.
Ideally you will be ASA or STA Level 2 qualified with a positive can-do attitude, reliability, willingness to undergo further training and a flexible approach to working.
This is a part-time role and you will need to be prepared to work weekends and after school sessions. In return we offer comprehensive ongoing training and support, a competitive salary and an extremely rewarding career.

For more information, or to apply for this role please complete our online form here or e-mail a CV and covering letter to: westberkshire@puddleducks.com

 

Poolside Assistants -Puddle Ducks West Berkshire

Join a dynamic, growing team!

Are you looking for a fun and rewarding role working with children and their parents?
Primarily a customer service role, our poolside assistants are the face of Puddle Ducks as you will be the first person our swimmers see as they arrive at the pool!
Having Poolside Assistants at many of our pools is one of the things that makes Puddle Ducks different. Main responsibilities include:
• Meeting and greeting customers, ensuring everyone has what they need for the class.
• Ensuring the pool area is clean, tidy and safe for customers.
• Assisting with any customer queries.
• Taking the register, sorting the equipment and clearing away following the class.
• Providing assistance to the teacher, including in an emergency.
The role is part time and during school term time only.

Puddle Ducks West Berkshire are recruiting for poolside assistants to cover the following sessions;
Downwind, Bagshot-
Monday 9:45am - 12:45pm
Thursday 12:45pm - 3:15pm
Saturday 1:45pm- 4:45pm
Frimley Church of England-
Fridays 12:45pm - 2:45pm
This position is available for one candidate to do all the above assignments, or split between multiple candidates.
Rate of pay: £8.25 per hour.
Full training and uniform will be provided.

For more information, or to apply for this role please complete our online form here or e-mail a CV and covering letter to: westberkshire@puddleducks.com