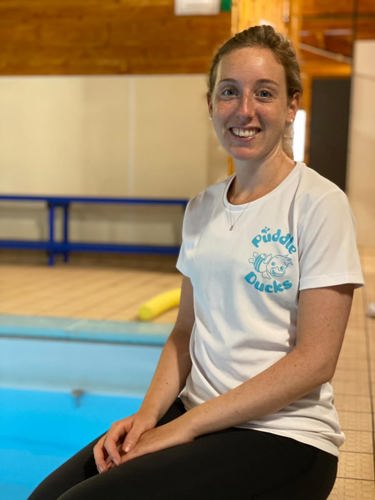 Puddle
Ducks North Hampshire and Reading is delighted to announce that Sabrina Fancy has qualified as an official Puddle Ducks teacher following rigorous training at Puddle Ducks HQ and an intense co-teaching programme, which has resulted in her passing the final exam with flying colours.
Sabrina, who is expected to teach at Downwind in Bagshot and at Frimley Co of E School, wanted to join Puddle Ducks because she has a love for swimming and has always wanted to work with Children.
Sabrina said: "I have really enjoyed learning a whole new world! It's been wonderful to meet all the lovely people at Puddle Ducks and all my fellow trainees. I've had a great time on the courses and shadowing experienced teachers - nothing beats seeing those smiling babies in the pool.
"It's a very exciting time starting a career with Puddle Ducks. One of the most appealing aspects is that it has given me the flexibility to keep my other part time job whilst pursuing a new path."
Puddle Ducks North Hampshire and Reading, is experiencing a time of growth despite being closed for most of 2020 and part of 2021 and is still on the look-out for new teachers to join the franchise. Jo Gribben, owner of Puddle Ducks North Hampshire and Reading said: "If you have a love of the water and would like a fulfilling teaching job then that's all you need to apply.
"We will provide all the training and guide you through the whole programme up to completion. Sabrina is proof of that. She has done so well to pass and we have already had excellent feedback from parents who are loving her sessions."
If you're interested in working with Puddle Ducks North Hampshire and Reading then you can make an enquiry by calling 01257 262 622 or email jobs.northhampshireandreading@puddleducks.com