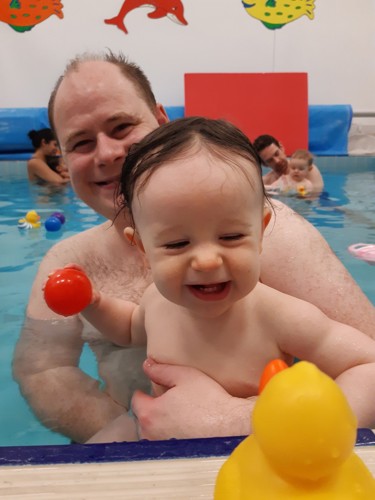 Puddle Ducks franchisee owner Jo Gribben and her team of teachers have been celebrating after the first lot of lessons went ahead  following lockdown easing in England.

As soon as Puddle Ducks HQ gave the go ahead for lessons to restart, preparations have been in place to ensure a safe and happy return for all customers. Lessons are still being taught from the pool side but this hasn't hindered the fun every child has been looking forward to.

Jo Gribben, owner at Puddle Ducks North Hampshire and Reading said: "We've had our heads buried in all the guidance and it's worked well to ensure we could welcome back all of our customers old and new.

"Obviously we are looking forwards to the day our teachers can be back in the water where they belong but for the time being we are happy to do the lessons this way so that children don't have to miss out on swimming lessons."

What makes the lessons possible at the moment is the highly trained teachers Puddle Ducks invests in. There has been in-depth training in place since the start of the pandemic to ensure a safe teaching environment was possible.

Trudie, who teaches at Frimley C of E school said: "Our baby and pre-school classes are as much fun as they ever were. We still focus on building confidence in our swimmers taking a nurturing approach to teaching. Of course it's a little different but we're not letting something like a pandemic get in the way of teaching a life skill to little ones who will have a love of water for life."

For more information about swimming lessons for children aged 0-4 at Puddle Ducks North Hampshire and Reading click here.