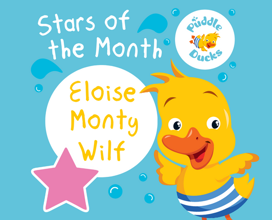 A HUGE congratulations to all our amazing superstars, you have been fantastic in your lessons and made your teachers VERY proud!!! 
Monty, a Kicker at our Leicester Hilton Hotel venue was nominated by his teacher Alex:
"Monty has gone through a long phase of being so nervous and upset at his lessons, even the sight of the pool would upset him. However, his mum has persevered, we have tried many tricks and he's now suddenly decided it's actually great fun and is smiling and splashing away. It's honestly made my month seeing him so happy. I think mum needs a special mention too as she's really persevered even when she found it really tough and it's now paid off!"
Eloise, a Little Dipper at our Nottingham Hilton Hotel pool was nominated by her teacher Pam:
"Eloise's confidence has really grown recently in her lessons. She has started to put her face into the water for her swims, has been doing some fantastic standing jumps and generally does her best to progress her skills further throughout her lessons. Well done Eloise, you are a star!"
Wilf, who is in Level 1 Swim Academy at The Key Health Club was nominated by his teacher Rachael:
"Wilf is my Star this month for his amazing contributions to our lessons. He puts his goggles on every week so that we know he is a professional swimmer and this week, he put his eyes in the water looking for treasure and to win the seahorse race. After that, he then turned into a pirate to jump to our desert island. He is doing such a fab job. Well done Wilf, keep up the good work!"
What fantastic 5 star nominations everyone, well done!!
Rachael