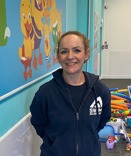 We are delighted to welcome Cate Woodrow-Smith to our Swim Academy teaching team.
She will be teaching Swim Academy on Mondays with Rachael at The Key Health Club and alongside Lizzi for our new Tuesday sessions. Cate will also be joining Jayne at The Hilton Leicester on Wednesdays and will cover some Sundays at Portland throughout the next year.
Cate was formerly part of the Puddle Ducks Derbyshire franchise so brings a wealth of experience to our teaching team. She can't wait to get back into the water doing what she loves! 
Welcome to the team, Cate xx