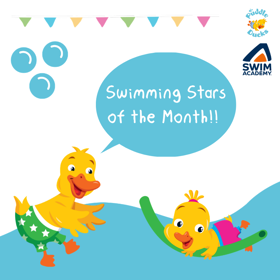 We have received some lovely nominations this month from our teachers and we would like to give a MASSIVE shout out to the following September superstars:
Una, a Little Dipper with us at our Hilton Nottingham pool was nominated by her teacher Nikola: 
"I am super proud of Una and her amazing jumping in this month! Una has been a nervous swimmer and is slowly building her confidence so it's amazing to see her jumping in with a big smile on her face and showing off her new skills! Well done Una, keep up the hard work."
The following superstars all swim with us at The Key Health Club: 
Aidan, who is in Level 4 Swim Academy was nominated by his teacher Rachael:
"Over the summer holidays, Aidan has been practicing his breaststroke skills as this was all he needed to move into the Level 4 class. All his hard work and determination has now paid off and he has moved to Level 4. Well done Aidan for going the extra mile to help you achieve your goal. You are an absolute pleasure to teach and I'm super proud of you!"
Milo, who is in Level 3 Swim Academy was nominated by his teacher Lizzi:
"Milo has worked really hard to achieve his 10m distance award. He is always a good friend to all in his swimming class and always tries to answer the safety questions. He is an all round lovely young man and a pleasure to have in the class every week."
Felix, who is in Level 4 Swim Academy was nominated by his teacher Cate:
"I would like to nominate Felix as he tries really hard each week. He always has an enormous smile on his face & he is a real pleasure to teach. It's also great to see how much he is progressing - Well done Felix!"
Congratulations everyone, you should all be very proud of yourself!