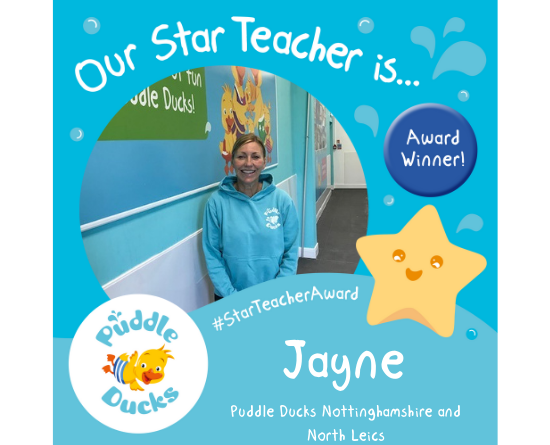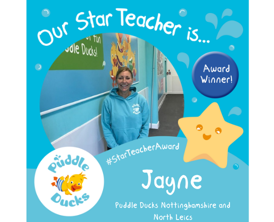 The Puddle Ducks Nottinghamshire and North Leics Star Teacher for Autumn 2021 is ……….. Jayne Ascott!!
We say that we have the #bestjobintheworld and the nominations that we have received for this award are an absolute testament to that!
A huge congratulations to Jayne and a massive thank you to Aiyla and her mummy Yasmin, who swim with Jayne at our Leicester Hilton pool for the winning nomination:
"I'm Yasmin and we attend the Splashers class at the Leicester Hilton Hotel. I'd like to nominate Jayne for Star Teacher as she is always so friendly, welcoming and always has a smile on her face! The class is over 30mins away from me and there are definitely pools closer but I come to this one because I just love Jayne's teaching style! She always makes us feel relaxed and empowers us to have the confidence with our babies.
Swimming on a Friday is my favourite activity of the week and I'm so grateful for how far my baby has come in the swimming lessons. Jayne has really given me the confidence with swimming with my daughter and she absolutely loves going every week!"
Jayne will now be a contender for the national Puddle Ducks Star Teacher award – Good luck Jayne and many congratulations as this is very well deserved!
Jayne teaches our Baby and Pre School lessons at The Key Health Club, Kirby Muxloe Primary School and the Leicester Hilton Hotel. She also teaches Swim Academy at the Leicester Hilton venue.
Thank you to everyone who nominated their teacher for the Star Teacher award as it really means a lot to the individual teachers and also us as a team. We hope that you enjoy reading each nomination received, all of which are detailed below as they speak volumes about our teachers and the work that they do with both the parents and children who swim with us.
Nominations:
Jayne Ascott:
"We would like to nominate Jayne from Kirby Muxloe in Leicester who teaches our son James on a Saturday morning. 
Jayne is lovely, patient and rewarding and that is why we have nominated her! She helps me feel confident in the water and that makes James feel more confident. She praises James and the other children constantly and is always smiling, happy and really positive. 
If you don't win the award Jayne, you are the Star Teacher in our eyes and thank you so much for being a lovely teacher."
Nominated by Sue and James
 "I would like to nominate Jayne from our Leicester Hilton Class. She is always full of energy and so friendly. She takes care to remember each babies name and just makes every swimming lesson fun. 
She praises and encourages the parents as well as all the children which is really lovely. Thank you!"
Nominated by Shivani and Kiyara
Jayne Ascott and Lizzi Ryder-Gadd
"I love the combination of Lizzie and Jayne at Keyworth. Both have a brilliant sense of humour and are great with all the children. We really miss Rachel too! Your teachers are all great!"
Nominated by Helen, Guy, Poppy and Matilda                         
Alex Shelton-Knight:
"My daughter and I would like to nominate Alex at The Key Health Club. Alex has now taught both my daughters and we think she's amazing!
Supportive, encouraging and motivating whilst always taking the time to address individual needs and make everyone feel comfortable and safe. She's friendly and approachable and in our eyes a definite Star Teacher."
Nominated by Emma and Olivia
"My daughter's teacher is Alex at The Key Health Club. Emmie absolutely loves her, and swimming in general. Before today's lesson Emmie was in a foul mood due to teething but as soon as she saw Alex she started waving and was as happy as larry again. Alex is so accommodating to every child's needs/mood and everyone in the group loves her!! We would 100% recommend her sessions to everyone!"
Nominated by Amanda and Emmie
"I would like to nominate Alex for the Puddle Ducks Star Teacher award. She has taught our 2 and a half year old daughter, Lilia, since she was 12 weeks old and is the most nurturing and lovely teacher. She teaches with the children's best interests at heart and makes each session lots of fun!
Her teaching style is lovely and relaxed and she tailors the lessons to each individual swimmer. Lilia loves Alex and can't wait for her swimming lessons each week - she is definitely one of Alex's biggest fans!"
Nominated by Kyla and Lillia
Nikola Nascimento:
"We would like to nominal Nikola for the Star Teacher Award. She's a fantastic teacher and advocate for Puddle Ducks, always making the lessons fun and her lessons are something to look forward to at the weekend.

We are lucky to have had her be Jacob and Jessica's teacher for the majority of their time with Puddle Ducks and we're so grateful for the skills they've learnt from her."
Nominated by Darren, Jacob and Jessica                 
"I would like to nominate Nikola at The Key Health Club. She is a fantastic teacher, always happy, smiling and so encouraging to all the kids. She's always giving great tips or advice & adapts some of the activities slightly if George is having difficulty with something - which means we're always making some kind of progress with swimming.
You can see that she genuinely enjoys helping the kids learn and interacting with them. She's always made me feel really comfortable too & both George & I love the lessons. I wouldn't hesitate to recommend her to anyone 😊"
Nominated by Louise and George