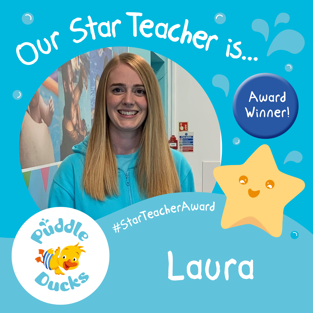 Our Star Teacher for Autumn 2022 is ........ Laura Spackman!!
We often say that we have the
#bestjobintheworld
and the nominations that we have received for this award are an absolute testament to that!
A huge congratulations to Laura for her winning nomination, which was selected by one of our local pool owners.
"We would like to nominate Laura for Star Teacher. We swim with Laura on Sundays at The Key Health Club and she is amazing with both my girls. They are both very different in character and differ in levels of confidence.
Lilia has had a long road to regaining her confidence after Covid and we can't thank Laura enough for the patience she gives to Lilia and for the reassurance she gives to both of us. Lilia always finishes her lessons by saying, "Mummy, Laura was really proud of me today." This makes me smile every week. She's also great with India: how she manages to maintain her concentration, I'll never know!
I'm delighted Laura is Lilia and India's teacher – the girls can't wait to see her every week and for me, that shows how much they love her and their lessons. We can't thank you enough, Laura. You're our Star Teacher!"
Laura will now be a contender for the national Puddle Ducks Star Teacher award – Good luck and many congratulations as this is very well deserved!
Thank you to all those who took the time to nominate and to all our teachers for their continued fantastic lessons.