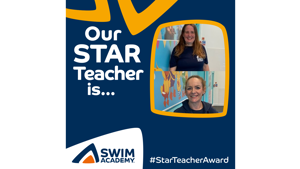 The Puddle Ducks Nottinghamshire and North Leics Star Teachers for Spring 2022 are ……….. Lizzi Gadd and Cate Woodrow-Smith!!
We say that we have the #bestjobintheworld and the nominations that we have received for this award are an absolute testament to that!
A huge congratulations to both Cate and Lizzi and a massive thank you to Sophia, Michael and their dad Panos, who swim with us at The Key Health Club: 
"Our children attend the Puddle Ducks sessions every week and we are delighted with the progress they have made.  This is due to the fantastic input from Cate and Lizzi.  Sophia is now a very competent swimmer with good technique and she enjoys being in the water.  Michael was frightened to get into the water on his first session and is now full of confidence and looks forward to attending every week. 
They are both fantastic communicators, they make the children feel welcome and they make the sessions a very enjoyable experience where learning is fun.  We could not be happier.  I would highly recommend the Puddle Ducks sessions for any parent who wishes to enrol their child on to a swimming class".
Lizzi and Cate will now be contenders for the national Puddle Ducks Star Teacher award – Good luck to you both and many congratulations as this is very well deserved!
Lizzi teaches Swim Academy at The Key Health Club and The Portland Centre. Cate also teaches at both venues along side our Leicester Hilton venue. 
Thank you to everyone who nominated their teacher for the Star Teacher award as it really means a lot to the individual teachers and also us as a team. We hope that you enjoy reading each nomination received, all of which are detailed below as they speak volumes about our teaching team  and the work that they do with both the parents and children who swim with us.
Nominations:
Nikola Nascimento
"Nikola not only teaches every class with a smile on her face but she knows our children. She takes the time to get to know each one and how best they learn, enjoy & participate in their swim lessons. Nikola spends time with every child during each class and gives us individualised progression based on what our child is capable of.
She empowers us as parents with the knowledge to keep our children happy and safe in the pool & never bats an eyelid when one of us is having a meltdown over a duck/Evangeline/bowl. She really is a wonderful teacher and lovely person & we thoroughly enjoy our lessons with her".
Nominated by Emma and Millie
"Nikola has helped my eldest daughter tremendously with her swimming. She is now a Little Dipper but has been swimming with Puddle Ducks since she was 3 months old. Nikola has really improved her confidence with using the woggles - We have gone from having a complete fear of them and crying to now using them completely independently. Nikola has shown patience and encouragement to help her overcome her fear. She will now jump in the water and submerge completely which Nikola has encouraged her to do, slowly but surely. My daughter always looks forward to her swimming lesson and Nikola is always so upbeat and positive!
Her knowledge and explanation as to why we do things in a certain way is so helpful and her passion for her job is very clear! She is an amazing teacher and we have now started my little boy swimming with Nikola too!" 
Nominated by Natasha, Sonia and Aaron
"Nikola is incredible. We've been coming to Puddle Ducks for almost a year now and my son was so nervous and apprehensive of the water to start with and she's worked so hard with him. She's just amazing and I'd be lost without her!!"
Nominated by Laura and Jack
Jayne Ascott
"Jayne is our Star Teacher because of the way she teaches lessons and the interaction she has with the children. My grandson would not go into the water at first and clung for dear life to his grandad but by his second week she had got him kicking his legs and using his arms and only being held round his tummy by grandad. She makes the lessons fun by singing songs to the tasks she wants them to do and also by playing games. For him to be able to jump off the mat onto his woggle on only his second week is incredible.
We have tried other classes but none have them have got this far and been able to do what Jayne has. She also praises so much when they have done well as it also really helps their confidence. It is also very beneficial that someone is able to go in the water with them. Jayne is just amazing and i think she so deserves to be Star Teacher".
Nominated by Tina and Robin
Laura Spackman
"Our teacher Laura is a star because she is always so calm and patient with Jack, even when he is being a toddler saying no no no to everything!"
Nominated by Tatiana and Jack
Rachael Slater
"I would like to nominate Rachael as Star Teacher. She is great at understanding the ability and confidence levels of each child that she teaches and as a result, Rachael tailors her teaching style accordingly. Her way of explaining and demonstrating activities is very clear and just at the right level for each child. Thank you Rachael - My eldest daughter has come on in leaps and bounds recently and she loves her lessons each week. It's been really good to see!"
Nominated by Andrea and Abigail 
Pam Garget
"I would like to nominate Pam for Star Teacher. She hasn't been teaching us very long but my (strong willed and not very confident) Little Dipper warmed to her straight away. She learnt what motivates him really quickly and finds a way to engage him even on our trickiest days - She is so calm and bubbly and knows just when to encourage and when stretch.
She tailors the activities really well to the different abilities in the class so all the children feel like they are doing well as well as having fun. I had been considering giving it a break for a while but our lessons with Pam convinced me to keep going. Thanks Pam, for always having a smile and for always saving us the purple woggles!"